Channel 8 talks to young Hollywood stars of "Neighbors"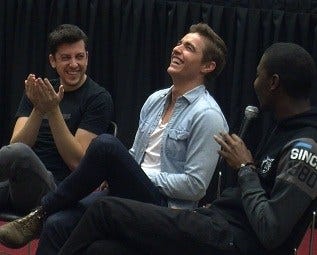 By: Bill Schammert
bschammert@klkntv.com
It may only have been for a few hours, but for the better part of Tuesday, Lincoln got a little taste of Hollywood.
Dave Franco, Jerrod Carmichael and Christopher Mintz-Plasse, also known as McLovin, all made a stop in the capital city to promote their new movie, "Neighbors."
"I love Lincoln," Mintz-Plasse said. He's been here before when he promoted "Role Models."
Carmichael had also made a stop in Lincoln before. He said it's as amazing as the last time he remembered it.
"Next time I come back, I'm going to live here and raise a family," Carmichael joked.
Hundreds of eager fans, mostly of the female variety, showed up for the guys' first stop at the Downtown Bar near 14th and O streets around 3:30 p.m. After the meet and greet, the three made their way to the UNL Student Union to judge a Runza eating contest.
"We love Lincoln, we genuinely do," Franco said. "We've maxed out already for the three-and-a-half hours we've been here."
There was also a special screening of the movie at the Mary Riepma Ross Media Arts Center. Afterwards, the three held a question an answer session with the more than 100 students. One person asked how Franco could step out of his brother James' shadow.
"You meet the two of us and you see how different we are," he said. "I've made a conscious decision to separate myself from him, work-wise."
"I've really enjoyed doing these Q and A's," Mintz-Plasse added. "It's all just been really fun."
As for their upcoming movie, Franco says they're proud of their work.
"I can speak for all of us when I say, it's nice to be a part of a movie that we absolutely would all go see and enjoy ourselves," he said.
"Neighbors" also stars Seth Rogen and Zac Efron. It premiers in Lincoln on May 9th.