Experts warn of more deaths as Nebraska hospitals fill with virus patients
"This is why we're speaking up so much. To get people to understand the gravity of the situation."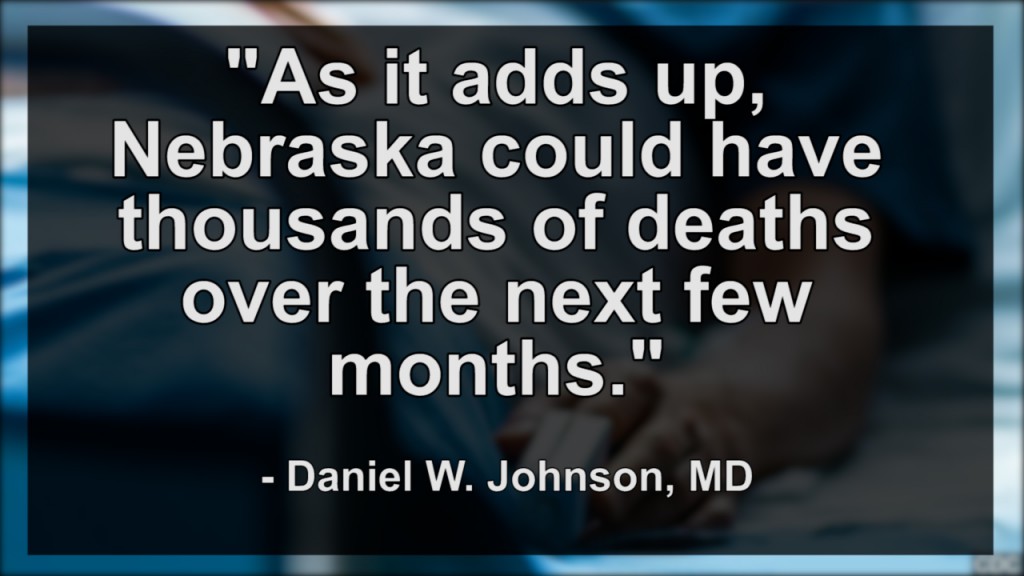 LINCOLN, Neb. (KLKN) – Amid a continued surge in cases and hospitalizations, medical experts across Nebraska continue to urge the public to take precautions and reduce the spread of COVID-19.
Nebraska saw consecutive days of more than 2,000 cases reported earlier this week, and is on pace to surpass 100,000 total cases by the end of next week.
The state continues to have the fifth-highest rate of infection, according to data from Johns Hopkins University. It's estimated that over the past week, one in every 137 Nebraskans was diagnosed with coronavirus.
The seven-day rolling average of daily new cases in the state has more than doubled over the past two weeks, going from 852.43 new cases per day on Oct. 28 to 1,953.29 new cases per day on Wednesday.
Dr. Daniel W. Johnson, a critical care anesthesiologist at Nebraska Medicine, said the numbers in Nebraska are "astronomical."
"Today we crossed a threshold that was unthinkable in the spring. We crossed 1,000 new cases per million per day," he said. "There are very few places on earth that have had an outbreak of that magnitude."
Health officials warn it's what follows the cases that is most concerning, and that the continued rise in cases could lead to hospitals being overwhelmed.
Hospitalizations typically lag several weeks behind cases, and doctors say they're seeing more severely ill patients during the recent surge.
A record 885 people were hospitalized with the virus Wednesday – nearly three times as many as there were a month prior.
State hospital capacity continues to dwindle, down to 26% on Wednesday. Approximately 30% of ICU beds remain available.
Johnson said the "doubling time" for virus hospitalizations in Omaha is currently 21 days.
"We currently have 372 COVID patients in the hospital," Johnson said in a statement. "This doubling time means that in 3 weeks there will be 744 COVID patients needing the hospital, and in six weeks, there will be 1,488 COVID-19 patients needing the hospital. For perspective, the Omaha metro currently has 268 unoccupied, staffed hospital beds. The math is extremely worrisome."
While bleak, Johnson said the "doubling time" for Omaha is better than the rest of Nebraska.
"We will fill up all the hospital beds with the current trend," he said. "It's not a matter of if, it's a matter of when."
Typically hospitals in rural areas would send patients to facilities in Grand Island, Lincoln and Omaha where more beds are available. Now, he said, there's been discussions about doing the opposite.
Johnson said the recently implemented changes to the state's directed health measure are not sufficient to stop the current trends.
He hopes state leaders will issue stronger DHMs in the future, something Gov. Pete Ricketts said Thursday afternoon was an option.
Even with government mandates, Johnson said it will take a monumental shift in public thinking and willingness to adhere to those mandates to make a significant difference.
"This is not a possible emergency that may come," he said. "We are in an emergency right now. We need people to drastically change what they are doing."
While a statewide mask mandate would help, Johnson said people avoiding gatherings – especially indoors – would have the biggest impact on turning things around.
He said avoiding large gatherings, closing bars and prohibiting dining in restaurants would be key.
"We've done it before," he said. "It worked in the spring, it can work again."
Bob Ravenscroft, vice president of advancement at Bryan Health, said Thursday he agrees with the assessment from Nebraska Medicine experts that hospitals will soon be overwhelmed.
"We are indeed in a tough, tough spot," he said.
Bryan reported 121 COVID-19 patients Thursday, and Ravenscroft said he wasn't sure how much more the organization could handle.
He said Bryan continues to look for ways to increase capacity and better utilize its resources.
Like Johnson, he said much of the success in fighting the virus comes from people adhering to health measures such as masking, washing your hands and avoiding large gatherings.
"We have been imploring Nebraskans to do all they can to help blunt the spread," he said. "We've been foreboding it could be a tough winter… it's very discouraging that large swaths of the population have chosen to ignore this."
Johnson said if current trends continue, Nebraska could see thousands of deaths in the coming months.
"If things get completely out of control, every family in Nebraska will be affected either by a death or by serious illness," he said.
He said he understands "pandemic fatigue" has set in, and that people want to get back to life as it was before the pandemic began. Right now, he said, that time is gone.
"This is why we're speaking up so much," he said. "To get people to understand the gravity of the situation."