UPDATE: Lincoln High student arrested for arson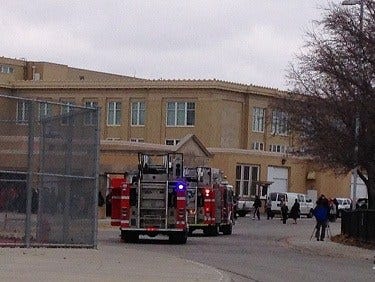 Posted By: Megan Conway
Update: This morning, school administrators received information that a 17-year-old Lincoln High School student was possibly responsible for the two fires set yesterday at Lincoln High School, according to the Lincoln Police Department. A police spokesperson said the boy was brought to the office, interviewed and subsequently arrested for two counts of first degree arson. Police believe he did it because he was bored. The student has been lodged at the juvenile detention center.
PREVIOUS STORIES:
UPDATE: Lincoln High School sent an email to parents Friday regarding the two fires set in the school on Thursday. The email from principal Mike Wortman says "I want you to know we are reaching closure on the investigation. Lincoln police are expected to file charges against a Lincoln High student yet today, and appropriate disciplinary action will be taken."
Lincoln High School had plans to have a practice fire drill Thursday toward the end of the school day, but the real deal came early in the morning. The first alarm went off in third period and the second during fifth.
"It went off again, so everybody was like maybe it's just a mistake. Nobody wanted to do it because it was really cold," says Zaira Chavira, a senior at Lincoln High.
"As soon as fifth started, the fire alarm went off again. I don't know why someone would want to damage the school," says Noah Thiessen, a sophomore at Lincoln High.
Joseph Wright, director of security for Lincoln Public Schools, says the first fire was started in a trash can in a restroom. An hour later, the second was in a hallway on some wrestling mats.
"No damage to the school really except for some smoke and burn marks on the floor. The mat was destroyed," says Wright.
Wright says both fires were in the activities building of the school, which is away from most classrooms.
"Our vulnerable people that we would usually worry about first were well away from this part of the building," say Wright.
Unfortunately, cameras won't be installed in that area of the school until this fall. Wright says with such a rare occurrence, they are considering the fires might have been lit by the same person and he says arson is serious business.
"Obviously we're concerned about that. If somebody is trying to light a fire, there's the question of what are they trying to do, be disruptive or be destructive," says Wright.
After the second fire was put out, school was canceled for the rest of the day, partly due to lingering smoke from the wresting mats. Students were let back into the school in the afternoon to retrieve personal items.
Thankfully, there were no injuries with these arsons. Officials say they are still searching for a suspect and there will be school tomorrow.