Gallery director reacts to 12-year-old accused arsonist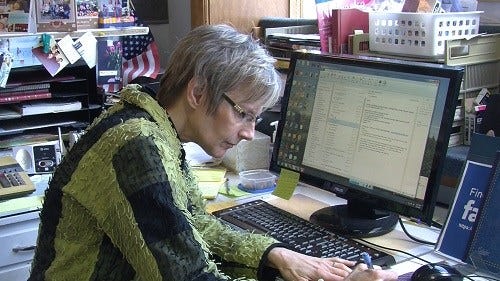 by. Marlenia Thornton
Burkholder Project employees are devastated about Thursday's fire, but they say it's now back to business.
Gallery Director Lisa Holmquist was working as usual when a young girl greeted her. The 12-year-old asked if she could look around.
Holmquist said yes, but she felt something not quite right.
"She looked school-aged to me and I did think it was a little odd that she was here by herself and so instead of sitting back down at the computer and I decided to walk around," Holmquist said.
That's when she smelled smoke near the back gallery of the Burkholder Project in the Haymarket and called 911.
Fire crews arrived Thursday afternoon, but two artists had already put out the fire.
Police say the 12 year old used a lighter to start some art material on fire.
Holmquist said owner Anne Burkholder is devastated.
"When you've owned the building for 28 years and it's her baby. It's her pride and joy. She feels very responsible for all the artists who have their work here. Yeah it is very traumatic," Holmquist said.
The 12–year–old was taken to the juvenile detention center.
Fire officials estimate there was $10,000 worth of damage.
Luckily, restoration crews sprang into action early and got the space ready for an art exhibit opening tonight.
"The art work in that studio is being cleaned up. It's not beyond repair, so it could've been much, much worst and all and all we're excited to have the opening tonight as we had planned," Holmquist said.
Holmquist said they don't plan to do anything differently.
They encouraged people to come out April 3 at 6:30 p.m. for the city's monthly First Friday art walk.