Governor proposes scholarships to address Nebraska's workforce crisis
Grand Island, NE — Nebraska faces a workforce crisis, the state isn't graduating enough students to meet the demands for high skill, high wage, high demand jobs. Now Gov. Pete Ricketts wants to invest in the future, through scholarships.
Dollars could help students like Alyssa Caretti at Central Community College. She spends part of her day in what appears to be a hospital, but is actually a nursing lab.
"It's crazy and the simulators are real life. They breathe, they cough, they talk to us, it's good experience for when we're out on our own," Caretti said.
Central Nebraska faces workforce shortages in health care, manufacturing, and business services, according to Joan McCarthy, the Career and Employment Services Director on CCC's Grand Island Campus.
She said, "We're very anxious to work with employers and help them. We know it's a tight job market but we're here to provide them with great, well–trained students and think that's an important part of our work here."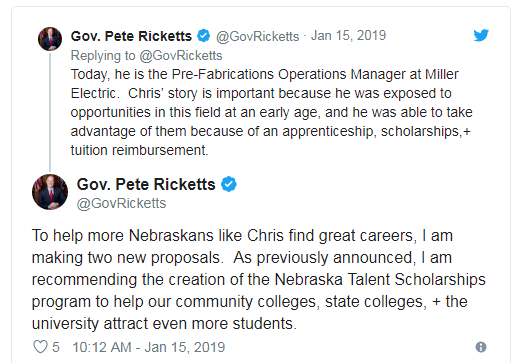 Recognizing this, Governor Pete Ricketts has proposed more than $6.5 million in scholarships for state universities, colleges, and community colleges.
CCC's VP of instruction Dr. Candace Walton said, "We welcome scholarship dollars being invested into our local community colleges. It's definitely going to be a great return on taxpayer investment."
Central Community College has done an economic analysis. For every dollar invested by taxpayers, the return is $2.40, and every dollar invested by a student returns $5.40.
Walton said, "You can't get that at the bank, so that's a great return for our students and I'm excited for what these scholarship dollars might be able to do for our students."
More than 90 percent of CCC's graduates find work in the college's 25 county area.
"Many of our students already have promises of jobs or are working part time with that company before they graduate," McCarthy said.
Alyssa Caretti hopes to be one of them, when she graduates in May.
With experience in a lab built in partnership with a local hospital, she should have the skills employers want.
"I feel like they prepare us really well here. I'm thankful for that," she said.
This Nebraska Talent Scholarship program is part of the governor's budget proposal.
In total, he is recommending nearly $7 million in new scholarships for public universities, colleges, and community colleges.
Courtesy: NTV