Update: Harvey Perlman Stepping Down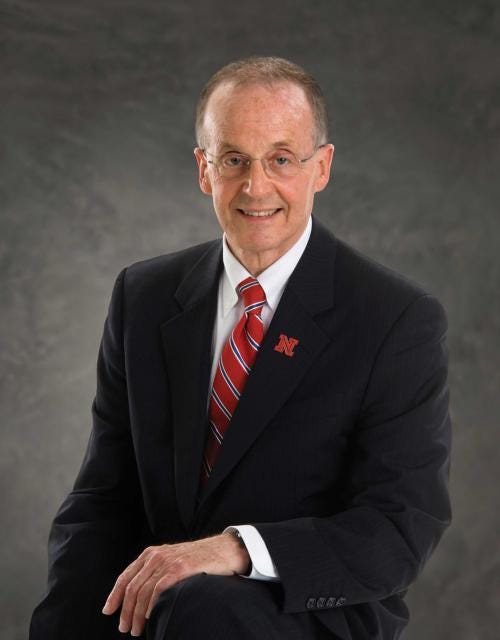 by. Marlenia Thornton
After nearly 15 years, University of Nebraska-Lincoln Chancellor Harvey Perlman announced Wednesday morning that he's wrapping up his tenure at UNL soon. He plans to step down from the position next June.
He announced this in an email on the day of his 14th installment.
He is the 2nd longest serving chancellor.
"I think he may go down as the greatest chancellor that this campus has ever had if you just look at his accomplishments and the course he has set the university on. Some of them we've accomplished and some of it we've yet on accomplishing," NU College of Law Dean Susan Poser said.
The York native started as chancellor in 2001 and has had many accomplishments.
Some of the most notable ones include UNL's admission to the big ten conference, which is one of the premier conferences for academics and athletics, the development of innovation campus, and increasing the university's student enrollment by 12.3 percent. Faculty say his vision is what sets him apart from his predecessors.
"I always admired the chancellor how he always looked out for the best long term interests of the university as a whole," UNL faculty senate president Kenneth Nickerson said.
After his service, Perlman plans to return to his old stomping grounds–the college of law.
After next year, he's going to work as faculty.
"I am personally looking for a chance to boss him around for a while since he's been bossing us around for so long, so we're saving an office for him," Poser said.
Perlman will also be remembered as playing big roles in the hiring and firing of several high profile coaches over the years.
There is no word yet on who will be replacing him.
———————————————————————————————————————————————————————————-
By: KLKN Newsroom8@klkntv.com
University of Nebraska Chancellor Harvey Perlman announced he is stepping down in June of 2016.
Below is a news release from the University of Nebraska-Lincoln:
After a decade and a half of leadership at the University of Nebraska-Lincoln in which he guided the University through an era of growth and progress, Chancellor Harvey Perlman has announced he will step down as chancellor on June 30, 2016.
Perlman shared his plans via a university-wide e-mail today – the 14th Anniversary of his installation at UNL. He was named the university's 19th chancellor on April 1, 2001, after serving nearly a year as interim chancellor. In December 2015, Perlman will become UNL's longest-serving chancellor.
"For a variety of reasons, both personal and professional, I believe that 2015-16 should be my last year as chancellor," he wrote in his letter to campus. "This will allow an orderly transition and give our new president, Hank Bounds, an opportunity to organize and conduct a search for my successor."
In his campus message, Perlman, 73, said that while he continued to be excited about the opportunities he sees for the University, the demands of the position eventually weighed on his decision to retire. "It is apparent that my age, longevity in this office and the uncertainty of my continuing tenure creates challenges for the recruitment of high-level administrators," he wrote. "I also believe UNL could benefit from an infusion of new ideas and new energy. "I have always wanted to 'do' chancellor, not just to 'be' chancellor, and that has become more difficult. As they say in athletics, I will leave it all out on the court during this next year. Then, I hope you will allow me to fade, quietly and without fanfare, back to the law school."He expressed his optimism and confidence that the university's next leader will continue building on its momentum." Thank you all for your indulgence in allowing me to lead my alma mater," he wrote. "I will always be grateful."