Huskers Game Day As It Happens
We've got crews in Columbus, in downtown Lincoln, at the Channel 8 studios, and fans across the globe watching this happen.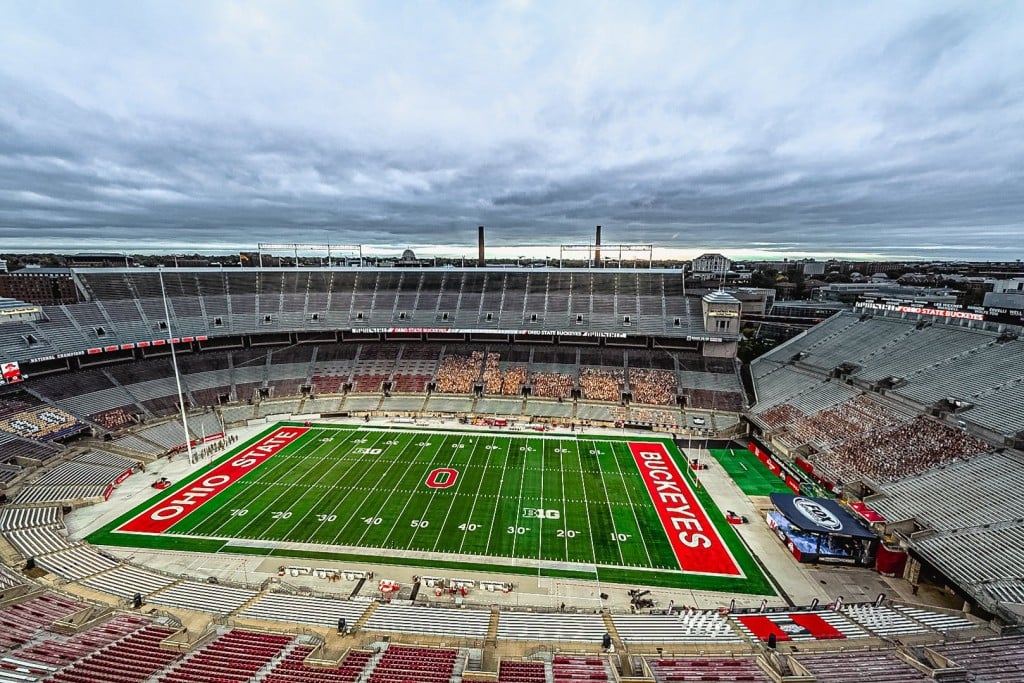 LINCOLN, Neb. (KLKN) – It's a Saturday like no other and the same phrase is being echoed through every neighborhood around. "It's Game Day".
**All Times Central
2:20 pm – With two seconds left, Scott Frost calls a time out.
2:18 pm – Only seconds left in the 4th quarter, Ohio State snags another touchdown. 52-17 Buckeyes.
1:54 pm – Wow. Ohio State scores a touchdown with one foot? 45-17 Ohio State
WHAT AN INSANE TD CATCH 🤯 🤯 🤯

Ohio State (-28) now up 45-17 on Nebraska pic.twitter.com/rFemruwpxH

— The Action Network (@ActionNetworkHQ) October 24, 2020
Just crazy…#OTFF #CollegeFootball #OSUvsNEB pic.twitter.com/IZWYfCN7CQ

— OverTime (@OverTimeFF) October 24, 2020
Ohio State receivers are now defying physics pic.twitter.com/EYiNq8meo8

— Barstool Sports (@barstoolsports) October 24, 2020
1:49 pm – Refs confirm another targeting call against Nebraska, now disqualifying #8 from the game.
1:40 pm – The 4th Quarter is underway.
@HuskerFBNation @Huskers little red has been waiting for this day!! GBR!! pic.twitter.com/RHRERGkoUE

— Tessa Bridges (@TessaBridges15) October 24, 2020
1:28 pm – Refs confirm targeting, Husker's #5 disqualified from the game.
Targeting call on Cam Taylor-Britt.

Definitely helmet to helmet contact.

He's been ejected. #Huskers

— Andrew Ward (@AndrewWardKLKN) October 24, 2020
1:25 pm – Ohio's Steele Chambers limps off the field, a personal foul called.
Nebraska appears to have a gem in Luke McCaffrey. That family is so talented and he looks to be quite capable of carrying out the tradition.

— Chris Davis (@cdavis20000) October 24, 2020
1:16 pm – Nebraska makes a field goal, bringing the score to 38-17 Ohio State
you cannot panic when you are down. No reason to be afraid now. this is a week for the #huskers to get better #VivaLaSkers pic.twitter.com/LfsV7mo06k

— karstan (@k4rst4n) October 24, 2020
1:07 pm – Martinez fumbles the ball and Ohio State moves in for a touchdown. The score now 38-14 Ohio State in the 3rd quarter.
Yikes.
Martinez with a fumble and Ohio State scoops and scores.
Buckeyes up 38-14 midway through the 3rd quarter. #Huskers
— Andrew Ward (@AndrewWardKLKN) October 24, 2020
1:00 pm – Ohio State moves further ahead in the 3rd quarter after Justin Fields scores another touchdown. 31-14, Ohio State
12:55 pm – The second half starts with Nebraska behind by 10 points #GBR

12:34 pm – HALFTIME

Halftime in Columbus.

Gotta bring it the next 30:00. pic.twitter.com/VDEOTOf8oe

— Nebraska Football (@HuskerFBNation) October 24, 2020

12:28 – With a 1:10 left in the 2nd quarter, Ohio State makes another touchdown. The score now 14-24 Buckeyes.

12:26 pm – Ohio State goes in for another touchdown but drops the ball- literally.

Trying to contain my optimistic excitement. I'm not doing a very good job of containing it, but I'm trying. #GBR pic.twitter.com/8EKkeyfBBc

— Rusty Dawkins (@rustywx) October 24, 2020

12:25 pm – Personal foul called on Nebraska

Gooooooo Bigggggg Reddddddd! #GoBigRed 🌽 pic.twitter.com/OkGncbMtdD

— Skinny D tha Barber 💈✂️🤟🏾 (@skinny_barber) October 24, 2020

12:20 pm – Flag on the play for Nebraska

12:17 pm – Ohio takes the lead after making a field goal, bringing the score to 14-17 in the 2nd quarter.

12:15 pm – flag on the play for Ohio's #5 for illegal motion. Five-yard penalty.

12:12 pm – After review, no foul called

12:08 pm – Flag on the play for targeting by Nebraska's #13.

12:03 pm – First time out, Huskers.

11:58 am – TOUCHDOWN NEBRASKA! The game now tied 14-14 with 8:24 left in the 2nd quarter.

Nebraska football fans RN: pic.twitter.com/ZvB637NuEe

— lauren (@laurenicole_3) October 24, 2020

Nebraska is still hanging around 👀#NEBvsOSU pic.twitter.com/Yfx4XIoUU1

— CFB Pylon (@TheCFBPylon) October 24, 2020

11:49 a.m. – Husker tight end Jack Stoll down on the field, holding his knee. No word yet on his condition.

Thoughts with Jack Stoll.

— Huskers Gameday (@HuskersGameday) October 24, 2020

Three tight end set therefor the #Huskers. Hope Jack Stoll's knee is ok after that shot.

— Nate Clouse (@NateClouse) October 24, 2020

11:41 am –

Me frantically refreshing Husker Twitter right now. Can't watch, kid's gotta soccer game. pic.twitter.com/bkh3B4jliY

— The Child Cooing (@AndersenTy) October 24, 2020

11:32 am – Ohio State scores, taking the lead 7-14.

His knee was down but okay then. #GBR

— Christopher Sawatzki (@SawatzkiChris) October 24, 2020

Nebraska winning was fun for a minute or two 😂😂

— Frank (@__Stoner__) October 24, 2020

11:27 am –

Husker Football is officially back. Thank you to everyone to who masked up and braved the cold to enjoy the game with us. #GBR

While you're here, enjoy the free, lightning fast @AlloFiber WiFi pic.twitter.com/BuprUlEtjJ

— The Railyard Lincoln (@railyardlincoln) October 24, 2020

In my man cave in Kansas City. GBR! pic.twitter.com/lMwO5SwTfg

— James Green (@huskersundevil) October 24, 2020

It's been too long since we've seen this on an opening drive. #Huskers https://t.co/0o4SfdWGLt

— DANNY J POWERS (@TheDannyJPowers) October 24, 2020

11:24 am – Ref calls false start, a five-yard penalty

11:23 am – 8:04 left in the 1st quarter

11:20 am – Ohio state scores, tying up the game.

11:15 am – Husker player down on the field

11:09 am – TOUCHDOWN NEBRASKA!

Lets GOOOOOOOOOO!!!! #GBR #HUSKERS

— Husker Huddle Podcast 🎙 (@HuskerHuddleGuy) October 24, 2020

11:07 am – Ohio States kicks off the game.

9:35am – THIS IS SO EXCITING!

9:08am – Hanging out with the "fans".

You'll see something similar in Memorial Stadium next week. But this is as good as it'll get for fans this year. Love the smiles as they come pic.twitter.com/pszKJ1xsb1

— Lee Marion (@LeeMarionKLKN) October 24, 2020

8:57am – The Channel 8 crew is INSIDE OHIO STADIUM!

This is what we'vewaited for. Looks different. Smells different. Sounds different. But gosh darn does it feel good. pic.twitter.com/FZMVXevmOD

— Lee Marion (@LeeMarionKLKN) October 24, 2020

8:20am – Channel 8 is busy with the crews getting ready for the HUSKER POWER HOUR that starts live at 10am. We'll have all you need to know to get ready for kickoff at 11am.

8:15am – The KLKN-TV crew of Andrew Ward and Lee Marion are on their way to Ohio Stadium.

7:30am – Ohio Stadium stage is set

Good morning 👋 pic.twitter.com/zAfFQfuHGm

— Ohio State Football (@OhioStateFB) October 24, 2020

7:26am – This is released from Nebraska Football

10 months & 25 days later, it's game day. pic.twitter.com/W28ZNUFZIV

— Nebraska Football (@HuskerFBNation) October 24, 2020