Bryant University Football Program To Compete In Big South Conference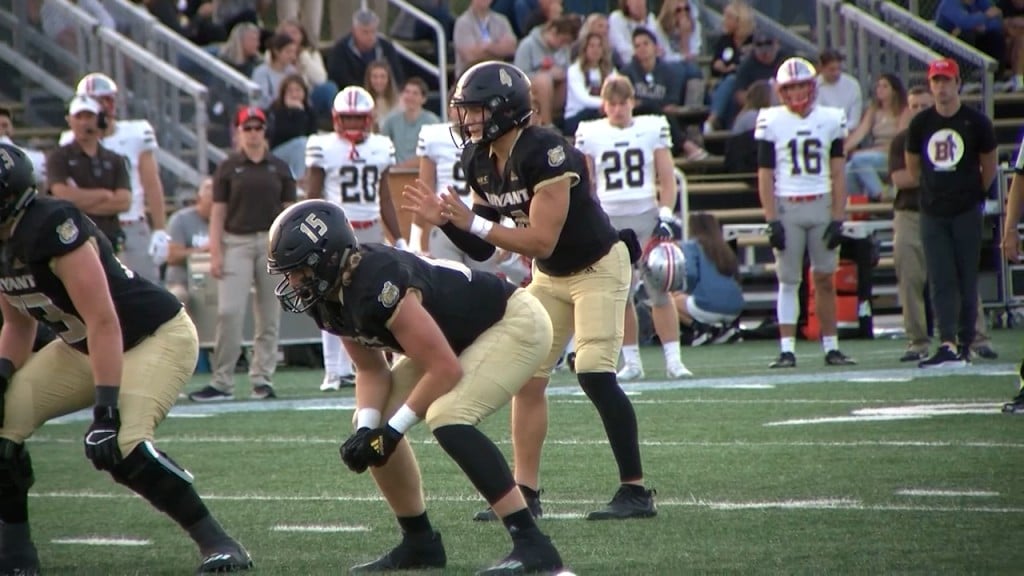 Bryant University Press Release
SMITHFIELD, R.I. – Bryant University announced that the Bryant University football team will join the Big South Conference as an associate member in football beginning in 2022.
The Bulldogs will be immediately eligible to compete for the conference championship and the league's automatic berth to the FCS Playoffs.
Beginning in 2022, the Big South's football membership will be comprised of full-time members Campbell University (Buies Creek, N.C.), Charleston Southern University (Charleston, S.C.) and Gardner-Webb University (Boiling Springs, N.C.), plus three associate football-only institutions in Bryant, North Carolina A&T (Greensboro, N.C.) and Robert Morris (Moon Township, Pa.).
"Bryant's ascent from a regional university to a national destination school is gaining momentum, said Bryant University President Ross Gittell, Ph.D. "In accepting an invitation from the Big South Conference for Football, the University is now affiliated with an exemplary leader in college athletics, dedicated to developing student-athletes through the pursuit of character and excellence in the classroom, community and competition."
Bryant began football in 1999 at the Division II level and has played as a Division I member of the Northeast Conference from 2009 to 2021.
The Bulldogs have posted an all-time record of 126-113, while going 78-71 at the Division I level and 47-39 as a member of the NEC. The Bulldogs have featured four student-athletes that were finalists for major FCS Awards, including Zevi Eckhaus, a 2021 finalist for the Jerry Rice Award.
"This is a great day for our department and for our football program," Bryant University Director of Athletics Bill Smith said. "I am incredibly grateful to Commissioner Kallander for giving us the opportunity to join a conference with a rich history of competitive success that has produced some of the nation's top teams over the last several years. This is a great opportunity for our football program to take the next step in its evolution and for our school to continue to grow its footprint across the country. We are excited to build new rivalries in the Big South and look forward to competing for championships."
Smith added, "I want to thank Commissioner Morris and all our friends in the Northeast Conference for an incredible 14 years and providing Bryant's student-athletes an outstanding athletic experience."
Bryant has had nine student-athletes win major NEC awards and 53 student-athletes earn All-NEC plaudits since 2008. Bryant has also had five players earn All-American honors and two others earn Hero Sports Freshman All-American honors.
"Bryant University's commitment to success in FCS football is real," said Big South Commissioner Kyle Kallander. "From program growth, to personnel, to planned facility improvements, the Bulldogs are impressive in their approach to striving for, and achieving, excellence. Bryant will be an outstanding member of Big South Conference football, and we look forward to welcoming them for the 2022 season."
The Bulldogs are coached by Chris Merritt, who was introduced as the program's fourth head coach on Dec. 20, 2018.  In three seasons, Merritt has guided Bryant to a 13-14 overall record — including a 7-4 mark in 2021 that was the program's most wins since 2014.  The Bulldogs went 5-2 in the NEC last season, their most conference wins since 2011.  Merritt and his coaching staff have produced 14 All-NEC selections, an NEC Offensive Rookie of the Year and an NEC Defensive Rookie of the Year.
With the move to the Big South, Bryant will also make the necessary upgrades to meet the requirements of being a full scholarship FCS program in 2022.
"On behalf of the entire Bryant Football program, we are excited to join the Big South Conference in the fall of 2022," coach Merritt said. "I would like to thank President Gittell and Director of Athletics Bill Smith for their support in the elevation of our program that coincides with the school's vision of expanding our footprint on the east coast. Our student-athletes and coaches are excited for the new challenge and we look forward to joining our new home in the Big South."
Tom Kennedy became the first Bryant football player to make an active 53-man roster in the National Football League, and the first to appear in an NFL regular-season game. Kennedy has appeared in 13 games in three seasons with the Detroit Lions, catching six passes for 54 yards this past season. He also threw a 75-yard touchdown pass in the regular-season finale for the Lions.
BRYANT UNIVERSITY
For nearly 160 years, Bryant University has been at the forefront of delivering an exceptional education that anticipates the future and prepares students to be innovative leaders of character in a changing world. The University delivers a uniquely integrated academic and student life experience with nationally recognized academic programs at the intersection of business, STEM and the liberal arts. Located on a 428-acre contemporary campus in Smithfield, R.I., Bryant enrolls approximately 3,800 undergraduate and graduate students from 38 states and 49 countries. Bryant is recognized as a leader in international education and regularly receives top rankings from U.S. News and World Report, Money, Bloomberg Businessweek, Wall Street Journal, College Factual, and Barron's. Visit https://www.bryant.edu/. 
The Big South Conference
Among the nation's premier FCS conferences, the Big South has advanced in the FCS Playoffs nine times in the last 11 tournaments — including five trips to the quarterfinals since 2013, and has recorded multiple postseason bids five times since the league first received an automatic bid in 2010.  In addition, the Big South has had a member ranked in the FCS Top 25 national rankings in 142 of the last 146 polling weeks.  The Big South had the Jerry Rice National Freshman of the Year in 2017 (Kennesaw State's Bryson Armstrong), the Walter Payton Award Runner-Up twice (Kennesaw State's Chandler Burks in 2018 and Stony Brook's Miguel Maysonet in 2012), as well as another Top 3 Payton Award finalist in 2019 (Monmouth's Pete Guerriero).  Since sponsoring football in 2002, the Big South has six FBS wins to its credit (all since 2010), 10 NFL Draft selections, 260 total All-Americans and 15 total Academic All-American honorees.  The Big South and Ohio Valley Conference (OVC) have signed a letter of intent to create an association of their football member institutions to begin with the 2023 season.  The unique agreement combines the two conference's football membership to ensure NCAA championship access.