Lawmakers call out FIFA for censorship of LGBTQ+ support at 2022 World Cup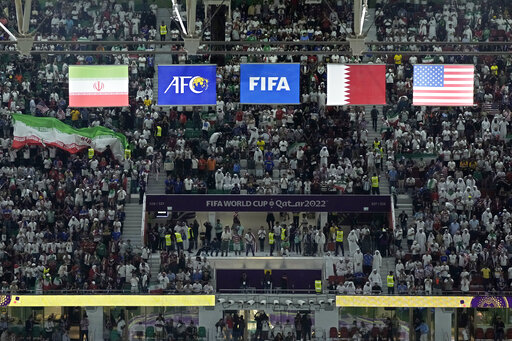 PROVIDENCE, R.I. (WLNE) — U.S. lawmakers said Friday that FIFA "failed to uphold its own anti-discriminatory values" by censoring the support of the LGBTQ+ community.
Players recently faced punishment at the 2022 World Cup for wearing "OneLove" arm bands.
Spectators were allegedly confronted by officials at the World Cup for wearing clothing that represented solidarity with the community as well.
Thirty lawmakers, including Sen. Jack Reed, Sen. Sheldon Whitehouse, and Congressman David Cicilline, wrote a bicameral letter to FIFA President Gianni Infantino regarding the censorship.
In the letter, lawmakers stated that human rights and free speech must be respected, regardless of where the World Cup is held.
"It is our understanding that team captains from several European teams competing in the World Cup intended to wear OneLove armbands as a signal of support for LGBTQ+ inclusion and diversity, but were instructed by FIFA that doing so would result in the issuance of in-game sanctions (e.g. yellow cards)," the letter read.
The lawmakers continued to say the decision to punish players completely contrasts FIFA's own campaigns against discrimination.
FIFA runs a "No Discrimination" campaign that explains what discrimination is, how it happens, and why it is wrong.
Through this campaign, players have worn arm bands that read "no discrimination."
Further, FIFA has a quote on their website from Article 4 of the FIFA Statutes that reads "discrimination of any kind against a country, private person or group of people on account of race, ethnic, national or social origin, gender, disability, religion, political opinion or wealth, birth or sexual orientation is strictly prohibited."
In their letter, lawmakers asked the following:
To what extent will FIFA consider governments' track record on LGBTQ+ rights when determining where to host future World Cups?
Will FIFA commit to consistent future policies with respect to players' uniforms; fans' apparel, signs, and symbols; and other forms of expression that allows for individuals to demonstrate support for the LGBTQ+ community and other marginalized groups?
Will FIFA commit to reviewing its protocols for how it engages with host country governments?