Revolution Sign Former Brown Bear Tommy McNamara To Contract Extension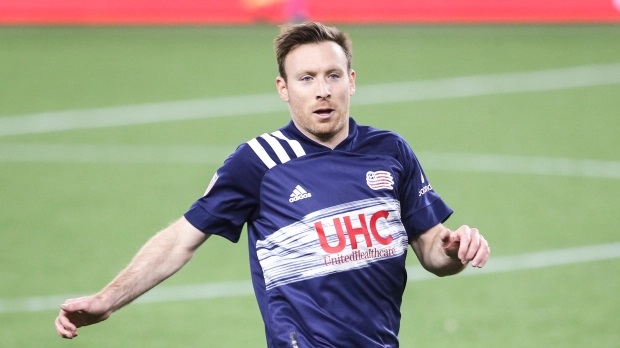 New England Revolution Press Release
FOXBOROUGH, Mass. – The New England Revolution have signed Thomas "Tommy" McNamara to a two-year contract extension with an additional one-year club option through the 2025 MLS season. McNamara is in his ninth MLS season and his third with the Revolution, having played in all but three games since arriving in New England as a free agent during the 2020 season.
"We are pleased to sign Tommy McNamara to a new contract with the Revolution. Tommy is an invaluable member of our team. He is an intelligent and dependable player who has shown versatility in playing all positions in our midfield," Sporting Director and Head Coach Bruce Arena said. "We are thrilled that Tommy will remain a member of our team for many years to come."
In his nine-year professional career spanning four MLS clubs, McNamara has totaled 192 appearances, 135 starts, 19 goals, and 26 assists across more than 11,700 minutes played. The West Nyack, N.Y. native has added six games played in the MLS Cup Playoffs. Since joining the Revolution in a trade with the Houston Dynamo in August 2020, McNamara has played in 63 regular season games for New England while missing only three.
During the club's Supporters' Shield campaign in 2021, McNamara totaled 32 games played, 21 starts, and contributed two goals and six assists en route to an MLS-record 73 points. At the midway point of the 2022 season, McNamara is one of two Revolution players to appear in every league match, alongside Carles Gil.
"I'm very happy to continue my career here in New England and look forward to building on the progress we have made as a team these past two years," McNamara added. "I am excited to remain a part of the Revolution and look forward to great years ahead with the club."
McNamara entered the MLS SuperDraft in 2014 after an undergraduate collegiate career at Brown University in Providence, R.I., with one additional season playing at Clemson University. Selected by Chivas USA, McNamara went on to score 13 goals over four years with New York City FC (2015-18) before making 37 league appearances for Houston from 2019-20.
The New England Revolution return to MLS action this Sunday, July 3 vs. FC Cincinnati. The club's annual Salute to Heroes match at Gillette Stadium kicks off at 7:30 p.m. ET on TV38, myRITV, 98.5 The Sports Hub, and 1260 AM Nossa Radio. After the match, the Revolution will celebrate Independence Day with a fireworks display. Tickets are on sale now at Revolutionsoccer.net/tickets and 1-877-GET-REVS.
TRANSACTION: New England Revolution sign midfielder Thomas "Tommy" McNamara to a two-year contract extension with an additional one-year club option through the 2025 MLS season on June 28, 2022
TOMMY McNAMARA AT A GLANCE:
Ninth-year midfielder owns 192 league appearances and 135 starts across stints with Chivas USA (2014, New York City FC (2015-18), Houston Dynamo (2019-20), and the Revolution (2020-22).
Since 2020, has totaled 63 games played and 46 starts for New England with an additional five playoff appearances.
Acquired by New England from Houston in a trade on Aug. 17, 2020.
Spent four years with NYCFC from 2015-18, tallying 13 goals with 14 assists across 86 games.
Made 37 league appearances for the Houston Dynamo from 2019-20.
Played collegiately at Brown and Clemson, where he earned a master's degree in applied economics, before being selected by Chivas USA in the 2014 MLS SuperDraft.
#26 TOMMY McNAMARA
Pronunciation:             MACK-nuh-MARE-uh
Position:                      Midfielder
Height:                         5-9
Weight:                        170
Hometown:                   West Nyack, N.Y.
Date of Birth:               02/06/1991 (West Nyack, N.Y.
Nationality:                   United States
How Acquired:             Trade with Houston Dynamo on Aug. 17, 2020; Re-signed by New England on Dec. 22, 2020 and June 28, 2022.