Lincoln couple celebrate 60 years of marriage
Jerry and Glenda Wright sat in their drive way and waved as friends and family drove by to celebrate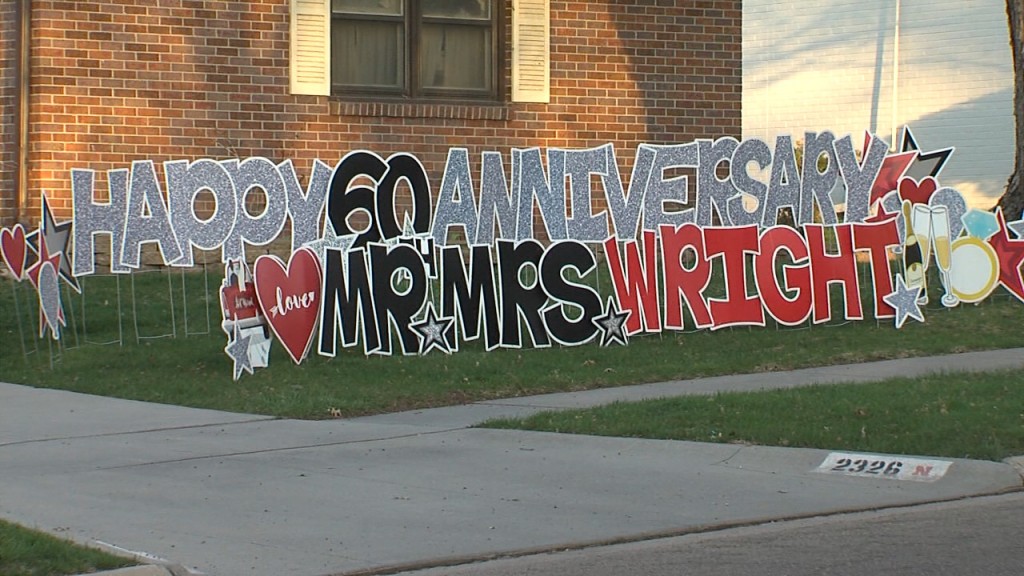 Six decades ago, Jerry and Glenda Wright read their vows and said 'I do.'
They celebrated their 40th anniversary, had to skip their 50th and Friday they sat back and enjoyed the view.
"They didn't even know for sure that dad would see this anniversary and he has. Unfortunately this is the best we could do," said Tina Wright.
Jerry was diagnosed in 2010 with cancer, ruining their 50th anniversary, and was given 8 years to live.
He has defied the odds and him and his wife are now staying inside to stay healthy.
His daughter Tina wasn't going to let this one get away. The big six, O.  Family and friends drove by, waving and showing saying their congratulations with the honk of their horn.
She says her parents have done so much for the city of Lincoln and wanted to show her love and appreciation for them.
"It's amazing to see them 60 years together. They have both health wise, weathered a lot together, and our family all together has and it means a whole lot," said Tine. "It shows what love and endurance, patience and taking care of each other all mean."
Jerry and Glenda are widely known in Lincoln their former company Jerry's Electric and their square dancing careers teaching around the state.
Six decades of marriage is a beautiful thing to see. Something we miss out on with this day and age. Nice to see the community coming out to suppor them.