Your Voice, Your Vote 2014 General Election results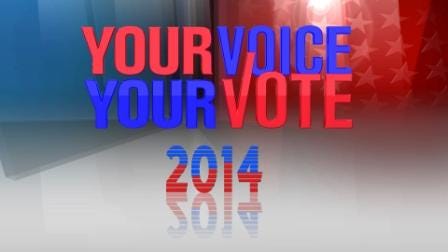 Posted by: KLKN Newsroom
8@klkntv.com
The polls closed at 8 p.m. this evening for the 2014 General Election.
ABC News has declared Republican Ben Sasse the winner in the U.S. Senate Race against Democrat Dave Domina. Republican Pete Ricketts is also declared the winner in the Nebraska Gubernatorial Race against Democrat Chuck Hassebrook.
The AP has declared Republican John Gale the winner as Nebraska's newly re-elected Secretary of State.
The AP says Republican Jeff Fortenberry has easily won election to a sixth term representing Nebraska's 1st U.S. House district. Voters Tuesday chose Fortenberry over Democrat Dennis Crawford, a lawyer from Lincoln. A Democrat hasn't been elected in Nebraska's 1st District since 1964. Fortenberry, a former member of the Lincoln City Council, was first elected to Congress in 2005.The AP has also declared Republican Adrian Smith the winner representing Nebraska's 3rd U.S. House district. It's his fifth term. Voters Tuesday favored Smith over Democrat Mark Sullivan, a feedlot owner and former member of the Nebraska Air National Guard. It was the second time the two had faced each other for a chance to represent the district, which includes about three-fourths of Nebraska.
Full results for U.S. Senate, U.S. House, Nebraska Governor, Legislature and other statewide races: http://www.sos.ne.gov/dyindex.html#boxingName
For election results in Lincoln and Lancaster County, click on the following link. http://lancaster.ne.gov/election/results/resul14n.htm
Be sure to watch Channel 8 Eyewitness News for complete election coverage.