Local restaurant owner tackles the challenge of COVID one burrito at a time
Pepe Fierro from "Pepe's Bistro" takes his business mobile with a burrito cart, going full circle from 2017, but this time he knows what he's doing.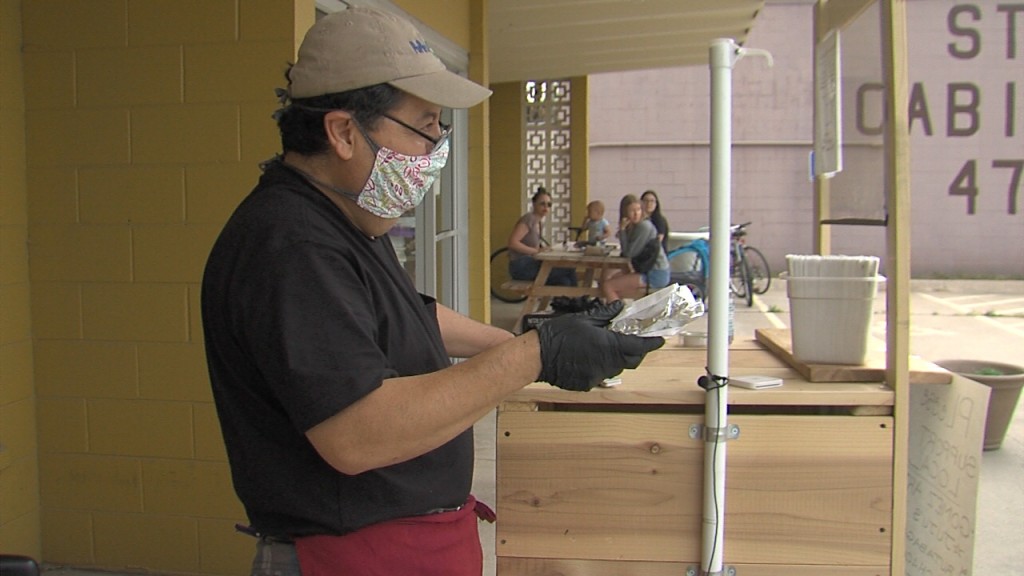 A local vegan-Mexican restaurant owner has gone full–circle in his journey.
On Saturday he sold a whopping 100 burritos in less than 30 minutes, all out of a cooler.
Pepe Fierro owns "Pepe's Bistro" now located in the south of downtown Everett neighborhood since 2018. He has been cooking up an ever changing fresh and local vegan pallet since 2008.
However, in these COVID–19 times, he's had to close the restaurant's doors and take a more innovative approach to staying afloat: selling burritos.
"I've got one burrito left for real this time," said Pepe Fierro, behind his burrito cart.
It's a story that takes him back to square one.
"There came a time when I had to shut down the restaurant and basically start from scratch and I started out with a burrito cart similar to this, this is a lot cooler," said Pepe.
This was in August 2017 when he was really down on his luck. He wasn't able to open his restaurant back up until February 2018, but he used this method to keep steady.
"It helped me get back on my feet," said Pepe.
And because of that success, he is using it as a positive step forward to keeping busy while the city figures out a plan to reopen restaurants.
"I feel great, I feel awesome," said Pepe.
Unfortunately, his doors may have to remain closed for at least another year.
"The rough draft on what they're going to do on restaurants, they're saying that tables need to be at least 10 feet apart, and you see my place, it's basically 25 by 25 foot," said Pepe.
"Card or Venmo only, but if you have a puppy in the truck, I'll take it," jokes Pepe.
And though definitely not stirred, he says the opportunity allows him to witness the real essence of community.
"The local artists, farmers, musicians, and businesses are the heart and soul of your community. Support them when you can as often as you can," said Pepe.
He hopes to take his burrito cart from one local business to another to help everyone else get back on their feet.
"Don't forget to support your local businesses, you've gotta support your small, local businesses," said Pepe.
Attached here is a link to his Facebook page where you can see where his cart will be stationed next.