LPS outlines plan for reopening schools in August, provides details on in-person graduation
Lincoln Public Schools officials on Tuesday outlined a tentative plan for the reopening of schools on August 12.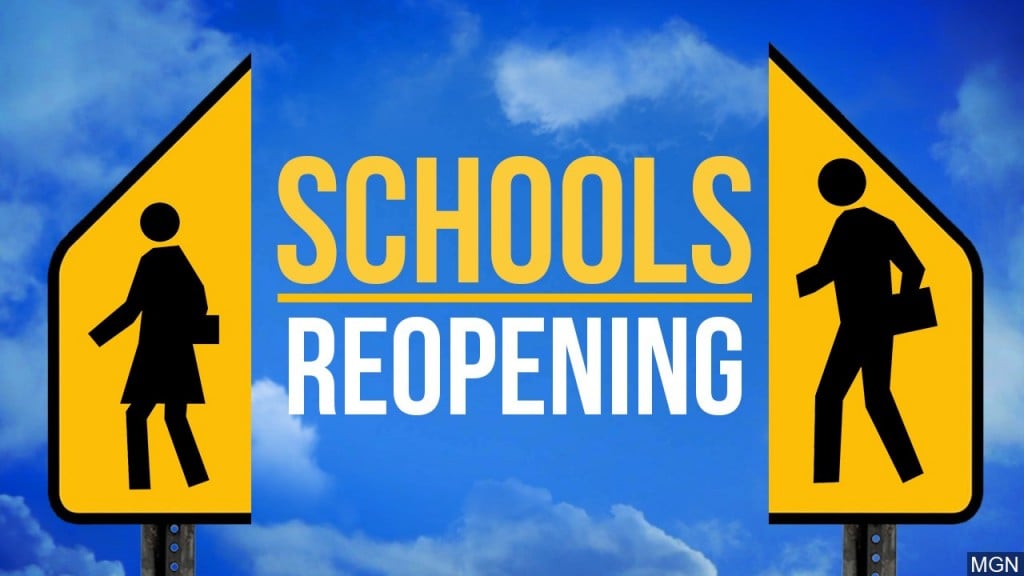 Lincoln Public Schools officials on Tuesday outlined a tentative plan for the reopening of schools in August.
LPS officials said the goal is to have all students in school on August 12.
That could change depending the level of the COVID-19 Risk Dial put in place by local health officials. The color-coded dial provides guidance based on the risk of COVID-19 in Lincoln and Lancaster County.
So long as the dial is in the "green," "yellow," or "orange" stages, all students (Pre-K through 12) would be in school. If the dial moved in the "red" (severe risk) category, officials said they may need to reduce the density of students, at least in high schools, or move to remote learning.
LPS said the majority of the responses to a survey sent to parents was to have the "full" school experience.
"We are planning to have that 100 percent, all students, welcome to school for the full day, every day in our plans for August 12," said Liz Standish, Associate Superintendent for Business and Operations.
In addition to the reopening announcement, LPS Superintendent Steve Joel said in-person graduation is "back on the calendar."
The plan is to have graduation ceremonies at Pinnacle Bank Arena spanning from July 24-26 – a plan Joel said is subject to change. Face coverings would be required, no live music performances would be allowed, no handshakes would be allowed and people handing out diplomas would be wearing gloves.
Joel said they are working to determine a limit for how many people could attend.
More details are expected to be announced over the coming weeks.
You can read the full letter sent to families below:
"Lincoln Public Schools families,
We have carefully reviewed national, state and local executive and directed health measure orders, thousands of responses from our family survey, and continue in close consultation with the Nebraska Commissioner of Education and the Lincoln Lancaster County Health Department (LLCHD). At the present time, based on all the above and to align with the Governor and the Commissioner of Education announcing this week that schools will return with in-person learning in the fall, we are planning to have 100 percent of students return to classes in our buildings starting August 12.
LPS will conduct classes and operate within the framework of the four risk color statuses of the COVID-19 Risk Dial as designated by LLCHD and the City of Lincoln. Our objective is to have students in school as much as possible. It is widely acknowledged that is the best option for student learning and for our community. There will be health directives and requirements from national, state or local health officials or the Nebraska Department of Education that we must follow in order to keep students in our schools and help reduce the spread of COVID-19 in our community. LPS continues to develop possibilities for providing quality education next school year during this pandemic. A community steering committee consisting of staff, community members and parents will help guide our plans for the four risk dial colors — keeping in mind that just like our Standard Response Protocols, every building may not always be in the same color category.
Accommodations will be considered for students with health or family health concerns. For students who are not able to attend in person, one accommodation that will be available is an option for families to utilize synchronous online learning through Zoom. Synchronous means remote students log-on to receive instruction with their class at certain set times during the school day. We will communicate more information with you later this summer about how you can select this option.
There are many details that still need to be considered and we will announce more detailed information as we get closer to August. Below is the framework and Lincoln Public Schools 2020-2021 Pandemic Procedures information we have available at this time to help answer some of your questions.
Interim Director for Lincoln Lancaster County Health Department Pat Lopez says: "We appreciate the open dialogue between LPS and our team at the health department to collaborate on a framework in which we can plan to safely open schools and allow students to return in the fall." She adds, "Recent data indicates the best way to help reduce the spread of COVID-19 in our community is to wear face coverings. LPS students and staff will play a major role in helping to keep the curve flat and allow schools to remain open to 100% of students. This is also an opportunity to teach good hygiene habits that will have a life-long positive impact in our community."
We know nothing about this is easy. There are things we will have to do as a community to work together and help reduce the spread of COVID-19 and allow students to attend school. We want to thank the Lincoln Lancaster County Health Department for its collaboration and guidance as we work through planning for the different risk levels and how it will impact our staff, students and families. We know there are still many questions to be answered and we have a monumental task ahead of us as we navigate the pandemic as a community. Thank you for your patience and understanding as we consider how to continue the delivery of quality education to all 42,000+ students in Lincoln Public Schools."