Magic Moments: The Holstien Family
By: Nikki Davison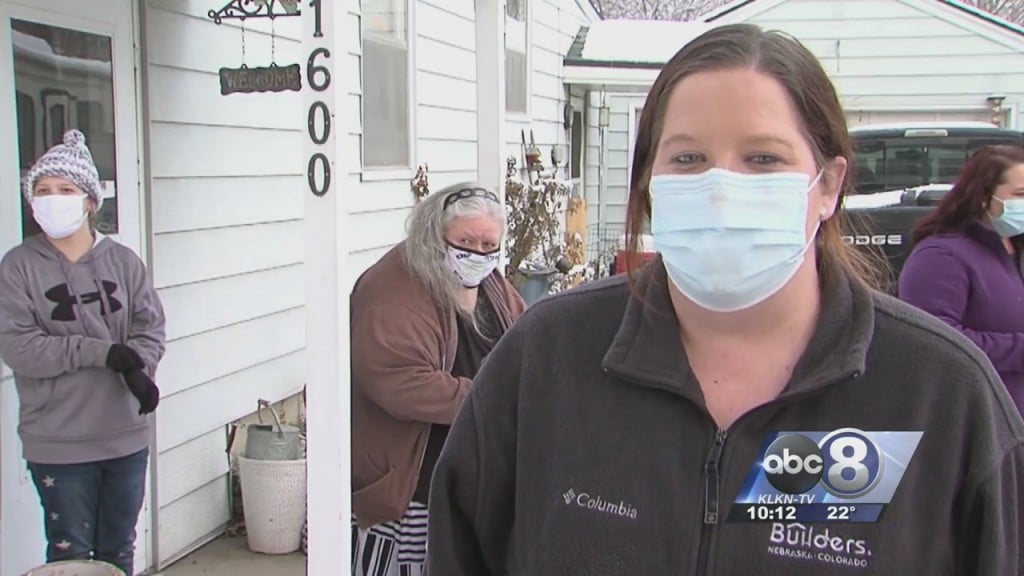 LINCOLN, Neb. (KLKN) — This is part of an ongoing partnership between KLKN-TV Channel 8 and Union Bank and Trust showcasing Magic Moments in December of 2020.
If you asked Neva Holstien about her family, chances are you would get an earful: She thinks the whole bunch of them are pretty special, and the feeling is mutual. When they were asked to describe her, phrases like "glue that holds us together" and "backbone of the family" came up again and again. Neva is on speed dial for family news; she is the first to share in the excitement and the first to offer support in challenging times. For celebrations, Neva makes it happen, even on a tight budget, and it's not a family gathering without her. She did the flowers for all the grandkids' weddings. There are countless gestures, large and small — all extended quickly and quietly, with great love.
Great-granddaughter Selena, who's 11, knows something about her great-grandma's love — Neva adopted her some years back and tries to be all things to Selena. She makes her feel safe, treasured, and cared for. Neva's nominator felt that as the center of her family, she deserved to be the center of attention for once.
The important thing is to stay healthy
Money's pretty tight, so Neva was working at Home Depot to help make ends meet. She really liked her job, and she loves people. But with coronavirus posing such a serious health risk, she had to quit. She has Selena to think about and has to stay well for her. In fact, she doesn't even like to go out for groceries. Christmas shopping is a real problem this year — she would rather give Selena a healthy parent than some store-bought gifts, and she doesn't really do the online thing. The important thing is to stay healthy.
It hasn't really felt like Christmas much, anyway — Neva's great-nephew, Ely Dehart, was killed in a car accident in November. His tragic passing has rocked the tight-knit clan, casting a pall over the holidays. The funeral was the day after Thanksgiving, but Neva was not able to attend due to the pandemic, which has made it all the more difficult to get closure. She really misses her family. They are spread out, and conditions this year have made gatherings nearly impossible.
A perfect Christmas for two
Neva's wish for Christmas is that her family could be together. UBT wishes that, too, and while we unfortunately can't make it safe to gather, we did arrange for a bit of holiday magic for the Holstiens, with some help from our amazing partners. The Lincoln Children's Zoo provided an annual pass attached to a stuffed giraffe (with a reminder to visit the giraffe exhibit!), U-Stop supplied gas gift cards for transportation expenses, and Mākit Tākit donated a box of crafting fun. Painting and sewing supplies, plus a Samsung tablet, books, blankets, throw pillows, and a cozy hot cocoa basket will provide much
indoor enjoyment, and UBT threw in a Sonic gift card for a busy day lunch. New coats from Scheels and toasty hats, gloves, and scarves will keep them warm when they head out to go sledding and build their snowman (they received a kit!).
Neva now has new mixing bowls, crockpot, utensils, and a waffle maker. A pandemic box ensures a good supply of safety and cleaning essentials, while Aqua Beads provide some much-needed relaxation. Selena found Barbies, L.O.L. dolls, and a Reborn doll in her gift pile, along with nail polish and lotions, gift cards for Google Play, and new shoes, socks, and sweats (also compliments of Scheels).
UBT arranged for the pair for receive a holiday meal from Doorstep Diner and decorated cookies from Rabbit Hole Bakery for the perfect Christmas dinner for two — special treats for a special pair.
Neva, we wish you and Selena special joy this holiday — we're glad you have each other. Have a healthy and happy holiday, Holstien family!