Mayor Baird proposes new Lincoln city budget plans
With plans of cutting the property tax rate by $1.2 million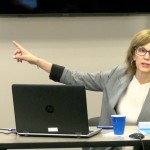 LINCOLN, Neb. (KLKN) – After two years, the Lincoln city budget is returning to a biennial cycle.
This Monday, the mayor will present her proposed budget to the city council, calling for investments in services and infrastructure.
The budget focuses on growing a safe and successful city.
"It starts with our vision," said Mayor Leirion Gaservicesylor Baird. "When my administration came into my office, we charted a vision of leading Lincoln toward a more successful, secure, and shared future."
Mayor Baird said these investments can be made possible while cutting the property tax rate by $1.2 million.
Even in the face of inflation, the mayor said the two-year budget builds on the success the city government has achieved over the last three years.
"We are continuing to reinvest our resources and delivering the services, the programs, and the infrastructure that helps us continue to grow a thriving and vibrant quality of life for everyone in Lincoln, and that is what we are focused on," said Mayor Baird.
The city council's public hearing on the budget is set for Monday, August 1st with plans to adopt the budget August 23rd.