Medical episode leads to car crash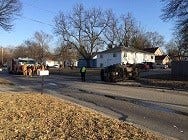 Posted By: KLKN Newsroom
8@klkntv.com
Lincoln Fire and Rescue responded to a rollover accident on 56th and Adams. It happened just before 5:30 pm.
The man lost control of his pick-up, jumped the curb on 56th Street, drove across Adams, hit a tree and flipped. He was trapped in his car for a short time.
He was taken to a local hospital with non life-threatening injuries.
Firefighters say the man may have had a medical episode before the accident.