Navy Veteran beaten by officers during Portland protests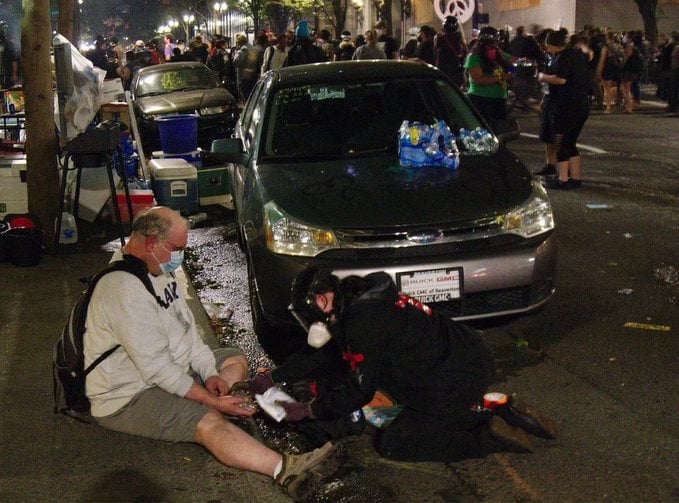 PORTLAND, Ore. (ABC) — Monday night, marks Portland's 54th straight night of protests. The main concern? An excessive use of force by law enforcement.
During another night of protests, 53-year-old Navy veteran Chris David said he suffered a broken arm at the hands of law enforcement in Portland and was shocked at his treatment. David, body riddled with bruises, told ABC News he worn his Navy hat and sweatshirt in the hopes that some of these officers were veterans too. Standing in front a line of officers with his arms at his sides, hoping to start a dialogue, David was beaten where he stood.
Federal police strike protester with baton, use pepper spray and tear gas outside courthouse in Portland pic.twitter.com/VX2xTVaaYq

— Zane Sparling (@PDXzane) July 19, 2020
ABC News reporters on the scene say the protests start peaceful each night and gradually turn into chaos, the Portland mayor saying the presence and actions of federal law enforcement agencies have led to an increase in violence and vandalism.
Here's me giving @Tazerface16 an ice pack for his broken had on (7/18/20) #PortlandProtest pic.twitter.com/sob86tV19S

— 👁 TAV 👁 (@peyhubbard) July 21, 2020
In a Nightline interview Tuesday, the acting Deputy DHS Director Ken Cucinelli saying those security agents in Portland are within their rights to protect the courthouse, which demonstrators were attempting to break into. But, this hasn't stopped Oregon state in suing said federal agencies.