Nebraska man debilitated by West Nile virus holds reunion with hospital staff who treated him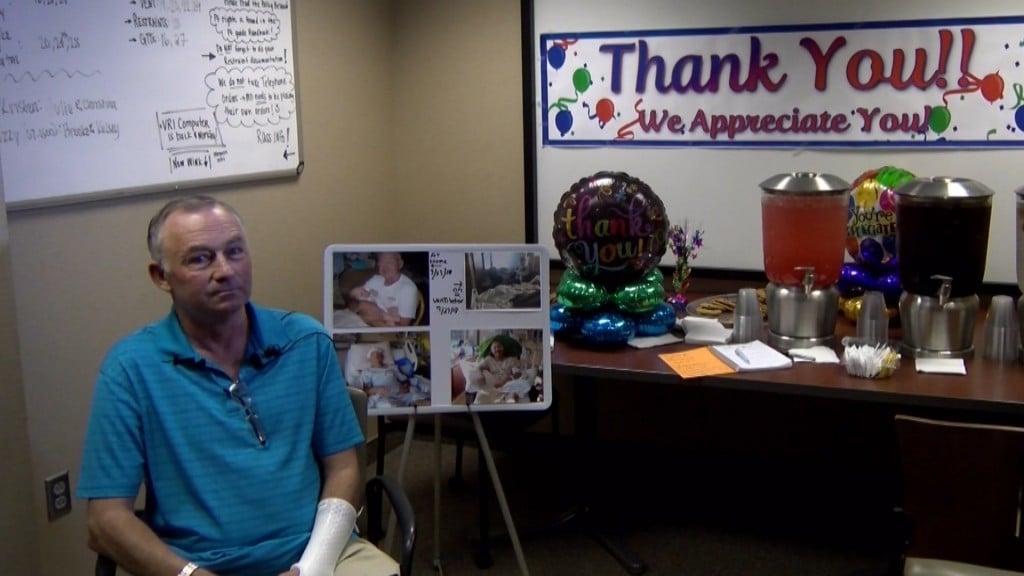 It was a hospital reunion hosted by the patient.
Last September, 62–year–old Mike Zimmerman of Springfield contracted West Nile virus.
"That morning, I woke up with a real bad headache and double vision," Zimmerman said.
His temperature got up to one hundred and one. When he went to the emergency room at Nebraska Medicine, he said staff recognized the symptoms and began treating him for West Nile.
"From that time on — through my whole almost 60 days in the hospital up here — I do not remember a day," Zimmerman said.
West Nile virus killed 11 people in Nebraska in 2018. So far in 2019, there are five cases of it, including one death.
Despite Zimmerman quickly getting medical attention, the virus debilitated him and he needed to relearn how to walk. He started physical therapy in November and says even then he needed help getting out of bed.
"It's like a cherry picker and you're in a net and they pick you up and move you to a chair," he said. "It was like that for quite awhile."
He started walking with help in January. By March, he had his first day of outpatient therapy.
"Got home that day and I got three little steps going up from the garage and into the kitchen," Zimmerman said. "Going up those steps, I didn't hang on good enough and I fell backwards and hit my head on the garage floor."
He said just two weeks ago, he caught himself falling at home breaking his arm.
Despite all the hardship, he's grateful to the staff at Nebraska Medicine.
"I feel that by coming here is why I'm still here," he said.
So he met with the staff again on Monday and treated them to cookies and tea as a way to say thank you.
Zimmerman said he doesn't know how got West Nile virus or where or when a mosquito bit him.
For some tips on preventing the virus, click here.