Nebraska women's basketball announces Big Ten schedule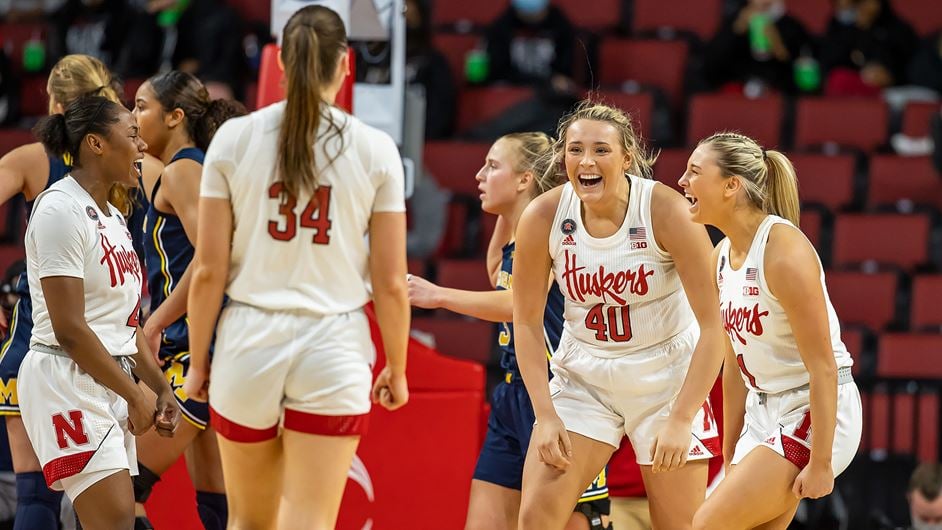 LINCOLN, Neb. (KLKN) – The Nebraska women's basketball team announced its Big Ten conference schedule on Wednesday.
They will face three Sweet 16 qualifiers from last year's NCAA Tournament during their nine games at home.
Nebraska's conference play will begin with Maryland on Dec. 4 and end with the Big Ten Tournament on March 1.
The Huskers went 24-9 last season and made it to the semifinals of the Big Ten Tournament.
They also made an appearance in the NCAA Tournament but fell in the first round to Gonzaga.
Nebraska has yet to announce game times or which games will be on TV.
The Huskers will open their season against Washburn in an exhibition match at Pinnacle Bank Arena on Oct. 30.
Nebraska's 2022-23 Big Ten Schedule:
Dec. 4 (Sunday) – at Maryland
Dec. 7 (Wednesday) – Wisconsin
Dec. 28 (Wednesday) – Michigan
Jan. 1 (Sunday) – at Indiana
Jan. 7 (Saturday) – at Rutgers
Jan. 11 (Wednesday) – Penn State
Jan. 14 (Saturday) – Ohio State
Jan. 18 (Wednesday) – at Purdue
Jan. 22 (Sunday) – Maryland
Jan. 28 (Saturday) – at Iowa
Feb. 2 (Thursday) – Michigan State
Feb. 6 (Monday) – at Northwestern
Feb. 9 (Thursday) – Illinois
Feb. 12 (Sunday) – at Michigan
Feb. 15 (Wednesday) – at Minnesota
Feb. 18 (Saturday) – Iowa
Feb. 22 (Wednesday) – at Illinois
Feb. 26 (Sunday) – Northwestern
March 1-5 – Big Ten Women's Basketball Tournament (Target Center, Minneapolis)
Nebraska's full schedule can be found here.
The men's conference schedule is set to be announced on Thursday.