UPDATE: 5 victims, shooter dead; 5 police officers injured in Aurora active shooter situation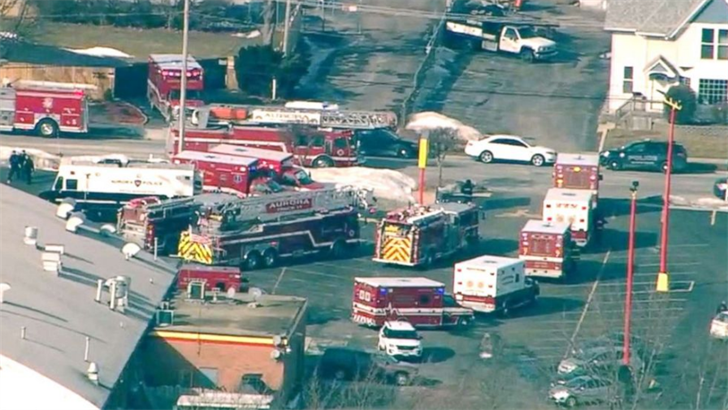 UPDATE: ABC News:
Five victims were killed and at least five police officers were injured by gunfire in Aurora, Illinois when a gunman opened fire in an industrial warehouse, according to authorities.
The gunman, identified as Gary Martin, 45, was killed by responding police officers, according to Aurora Police Chief Kristen Ziman.
The shooting unfolded in a town about 40 miles west of Chicago.
The first 911 calls came in at 1:24 p.m. local time, according to Ziman. She said that Aurora police officers were on scene within four minutes "and were fired upon immediately."
Several teams of law enforcement officers entered the 29,000 square foot warehouse to locate and engage Martin, Ziman said. When they located him, they engaged him in gunfire, ultimately killing him.
Martin's motive remains unclear.
People who escaped the building when the shooting began described the chaos inside.
"We got out of the back door as soon as we heard shots," Howard Sebby told ABC News. "We saw one guy get shot, he was a co-worker, he was shot in the arm and back, I think they took him to the hospital."
Sebby also said he saw the shooter "running," though it was unclear where the gunman may have been going. Sebby and another eyewitness, John Probst, said they were hiding out in a nearby home and being interviewed by police.
Aurora police noted that the location has been "secured" but a "continued police presence will remain as investigation [sic] continues."
---
Kane County coroner's office spokesman Chris Nelson says at least one person was killed in the attack Friday afternoon at the Henry Pratt Co. building in Aurora.
City spokesman Clayton Muhammad earlier told ABC7 that the suspect had been "neutralized."
He did not elaborate.
Muhammad also says four officers were wounded in the shooting and are in stable condition.
Muhammad did not say the officers had been shot or if anyone else was hurt.
Aurora is about 40 miles (65 kilometers) west of Chicago.
---
(ABC News) One person is reportedly in custody in Illinois following an active shooter situation.
Police in Illinois responded to calls of an ongoing active shooter situation in Aurora.
The city of Aurora is located about 40 miles east of Chicago.
Several people, including police officers, were reportedly injured.
No deaths have been reported at this time.
"We have an ongoing active shooter incident at 641 Archer Av. This is an ongoing active scene. We will provide more information once confirmed," the Aurora police department tweeted Friday afternoon.
The active shooter was first publicly confirmed by the city on their Twitter account.
The Chicago field office of the Bureau of Alcohol, Tobacco, Firearms and Explosives (ATF) announced in a tweet that it was responding to the active shooter reports.
FBI agents out of the Chicago field office are also responding to the scene and assisting law enforcement, a spokesperson for FBI-Chicago told ABC News.
This is a developing story, we will continue to provide updates as they become available.