Police cruiser totaled in head-on collision
A 61-year-old man collided with a cruiser head on early Tuesday morning.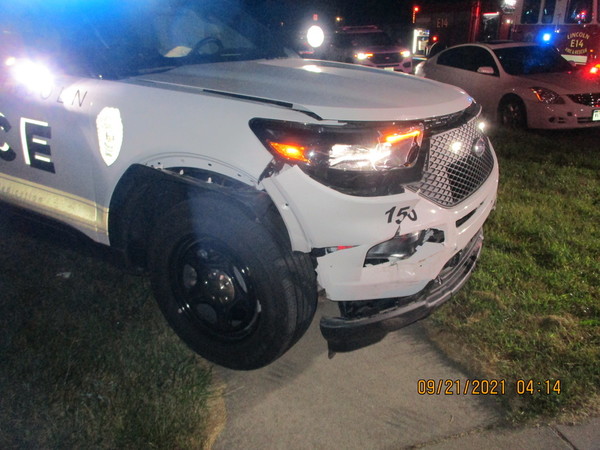 LINCOLN, Neb. (KLKN) – Lincoln Police were called to the 700 block of W Dawes after someone reported that a man was driving on her lawn in a SUV.
The SUV stopped perpendicular to the street blocking West Dawes, then started driving through yards.
After driving through yards, the SUV turned around abruptly and accelerated towards a police cruiser.
The SUV collided with the police cruiser, an officer was still in the vehicle at the time of the collision.
Airbags were deployed and the officer escaped before the SUV began to reverse and accelerate towards the cruiser again.
The officer took cover as the SUV continued to drive through yards until the vehicle became disabled after running through several fences and a fire pit.
Once the vehicle was disabled, officers contacted the 61-year-old male driver and took him into custody.
The 61-year-old man was taken to a local area hospital by LFR, where he currently remains hospitalized due to possible substances ingested, and for further evaluation.
The officer sustained abrasions and swelling to their arms and received treatment from a local area hospital.
The charges are currently pending, and damage estimates are unknown at the time but the cruiser was totaled in the collision with the SUV.