Ricketts provides overview of state flooding response, damage estimates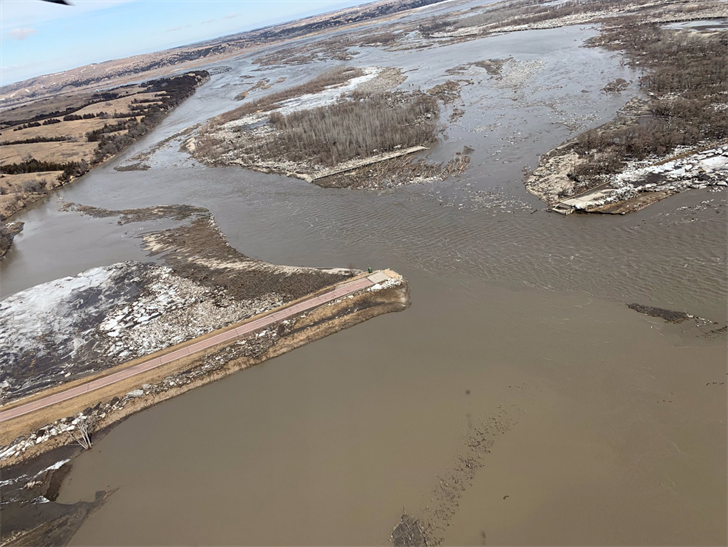 Nebraska Governor Pete Ricketts started off his press conference Wednesday morning by acknowledging a sobering fact.
"This is the most widespread natural disaster we've ever had in our state," he said from the podium in his hearing room at the state capitol.
As of Wednesday morning, 85 cities, 77 counties, and four tribal areas in Nebraska had emergency declarations. The declarations cover more than 80 percent of the state
An estimated 1,735,635 Nebraskans – 95 percent of all residents – have been affected by the storms.
The numbers from stage agencies, including the Nebraska Emergency Management Agency (NEMA) and the state agriculture and transportation departments, were staggering.
Approximately $430 million in infrastructure damage across the state. Another $85 million in private infrastructure damage. More than 2,000 homes damaged or destroyed, and more than 400 businesses along with them.
The impact on farmers and ranchers was just as extreme – around $840 million in crop and livestock losses.
All of those numbers are according to the state's preliminary estimates, which prompted Rickett's to ask the White House for an expedited disaster declaration on Tuesday.
That letter was received by FEMA in Washington Tuesday evening, Ricketts said. If and when it is acted upon depends on the agency's evaluation, Ricketts said, adding that the damage threshold was "way above" what is required for such a declaration to be issued.
Vice President Mike Pence spent Tuesday afternoon touring damage and visiting a shelter in the Omaha area, calling the flooding the worst he'd "ever seen in his life," Ricketts said.
State infrastructure damage included more than 2,000 miles of damaged roads, 16 bridges (13 of which will need to be replaced), and has resulted in Nebraska Department of Transportation crews working nearly around the clock to get roads back open, Nebraska Department of Transportation Director Kyle Schneweis said. About 375 miles of those roads remained closed Wednesday.
Those figures don't include extensive damage to county roads and U.S. highways, Schneweis said.
Elsewhere, water systems remain compromised, NEMA Assistant Director Bryan Tuma said, adding that the demand for bottled water remains high in flood-impacted communities.
Hazardous materials in the flood waters pose another challenge for his department. Tuma said those will be collected and disposed of as the water levels subside.
While some local agencies continue to conduct water rescues, such as the fire department in Wahoo, the Nebraska State Patrol and Nebraska National Guard had not been forced to respond to any water rescues in the last 24-36 hours, Major General Daryl Bohac said.
But all across the state, help continues to arrive various forms.
As of Wednesday morning. the Red Cross was operating or partnering with nine shelters in Nebraska and southwest Iowa, assisted those who have been displaced from their homes.
Countless donation drives and fundraisers have popped up, some from businesses and others from individuals who just want to help.
Ricketts also said he will declare Nebraska Strong Day in conjunction with a fundraising campaign by the Nebraska Broadcasters Association that begins Friday.