Senators debate winner-take-all election bill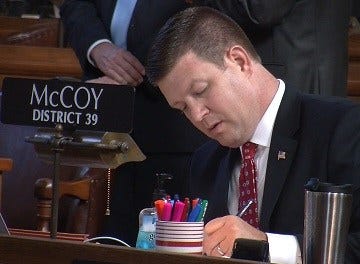 Posted By: Camila Orti
Lawmakers are debating a bill that could change the way Nebraska awards its electoral votes.
Sen. Beau McCoy introduced LB10, a Republican-backed bill that would reinstate Nebraska's winner-take-all system in presidential elections. The issue has a long history in the legislature, it's been brought forward 14 times in the last couple decades. This year, McCoy is hoping it'll pass.
"Nebraskans need to believe that their votes count whether they live in a rural area of our state or an urban area of our state," McCoy said.
That's why McCoy says he's trying, for the third time, to pass this bill. It would take Nebraska's "split vote" system for presidential elections and change it back to the way the state used to award its five electoral votes- all to one candidate.
"If we further dilute those five down to splitting it up by congressional district, then we really don't give ourselves the advantage to compete on the national stage," McCoy said.
Right now, Nebraska and Maine are the only two states that can split electoral votes between opposing presidential candidates. The current system was adopted in 1991- it awards an electoral vote to the winner in each of the state's three congressional districts, and two for the statewide winner for a total of five.
On Monday, the bill was brought to the floor for debate. Opponents like Sen. Sue Crawford say the opportunity for a couple swing votes makes Nebraska an important stop for campaigns.
"If we go back to a winner-take-all system we become one more of those states that doesn't get time and attention from the candidates," Crawford said.
Sen. Ernie Chambers argued that in an overwhelmingly red state, the bill only serves the Republican party.
"This is strictly and purely political, and in this context it is strictly partisan," Chambers said during the debate.
Lawmakers discussed McCoy's bill for just over an hour and a half, and they anticipate the debate to continue most of the week.
A winner-take-all election bill has only made it to the governor's desk twice. They were vetoed both times by then Democratic Gov. Ben Nelson.