UPDATE: Several dead after Munich mall shooting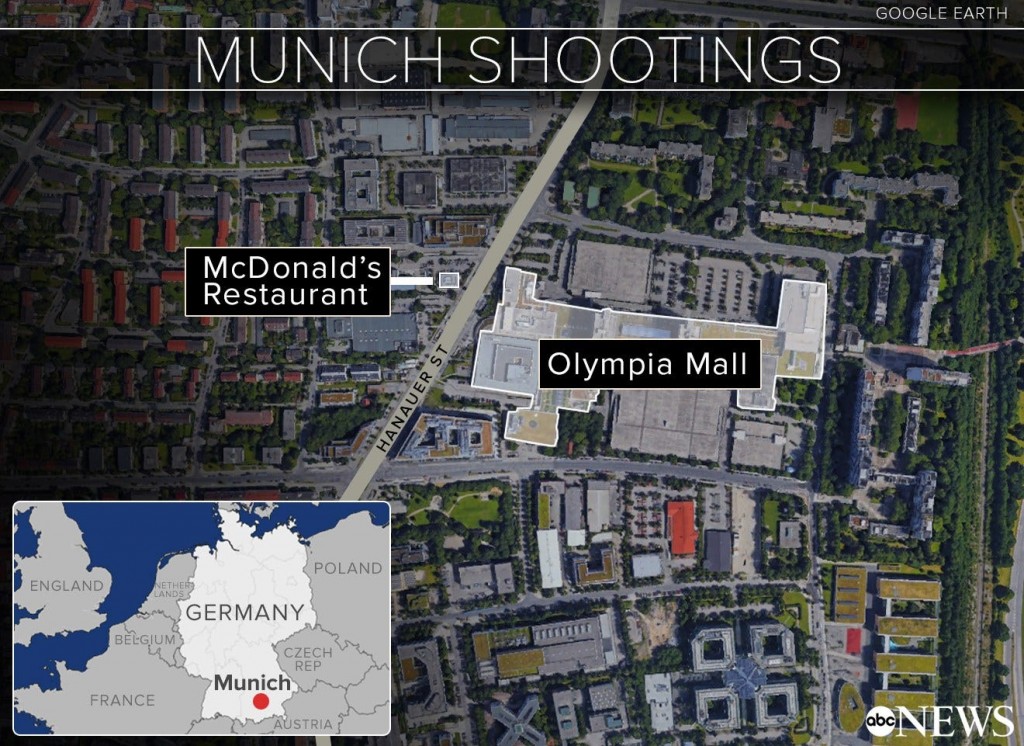 By: Channel 8 Eyewitness Newsroom
8@klkntv.com
UPDATE: Courtesy, ABC News
At least nine people are dead and at least 10 are injured, following what police have described as a "possible terror attack" at the Olympia-Einkaufszentrum shopping mall in Munich, Germany. A manhunt is underway.
Police said that witnesses called to report three people with guns on a nearby street who later moved toward the mall. The perpetrators remain at large.
The ninth body was found about a half-mile from the mall, according to a police statement, but it is unclear whether it is that of an attacker.
Police spokeswoman Claudia Kunzel told ABC News that "all the police that we have" are responding to the situation. Special forces from Bavaria region, the federal police and other regions have been deployed to the town in southern Germany.
The shooting began just after 6 p.m. in a McDonald's restaurant in the mall. The latest reports suggest that police are still evacuating the building.
A spokesperson for police in Munich described the incident as a "possible terror attack" while speaking to a German radio station.
All subway services in the city were halted after reports that the suspect fled into the subway, and police are appealing to people to clear the streets as they hunt for the gunmen.
They are directing people to avoid Munich's city center and shelter in place, after unconfirmed reports of further shooting.
President Obama has been briefed on the situation, and later offered sympathies and pledged support to Germany, which he described as one of America's closest allies.
In a statement, White House Press Secretary Josh Earnest said that the U.S. condemned "the apparent terrorist attack" and would "make available any resources that would assist their investigation."
The shopping mall where the shooting took place is located in what was the Olympic Village for the 1972 Munich Olympics, during which 11 Israeli athletes were taken hostage and killed along with a German policeman.
For more information , click here.