Sydney Loofe's mother, friends testify at Boswell trial
Day four of the Bailey Boswell trial was met with 9 different witness testimonies and a large background of the life of Sydney Loofe leading up to her disappearance.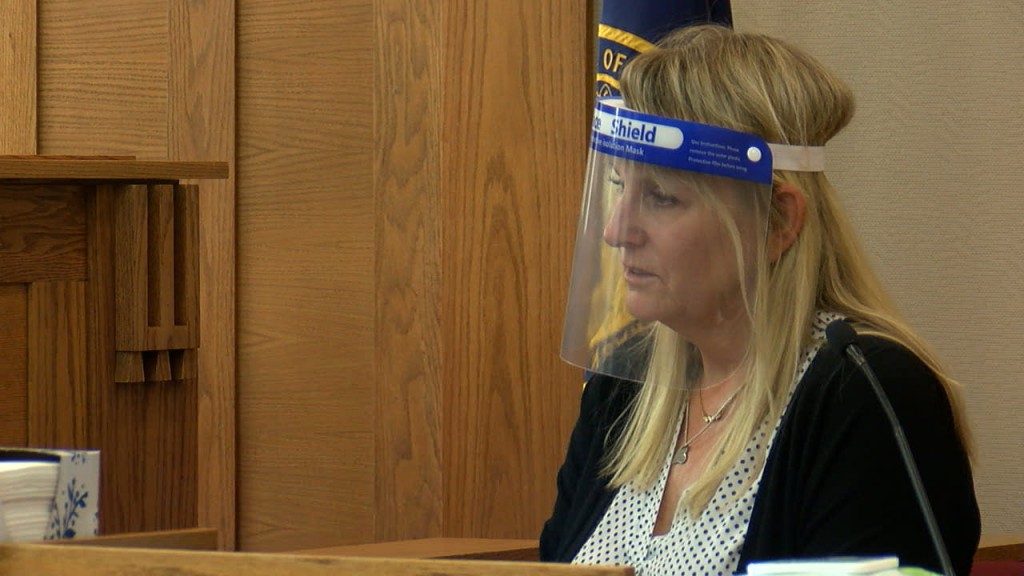 A long day for jurors as they heared from 9 witnesses in the first day of evidence presentation. The first witness called to the stand was Susie Loofe, the mother of 24-year-old Sydney Loofe.
While testifying, Susie indicated that her relationship with Sydney was a close one, saying they were in communication every day. The last time she was with Sydney was the weekend before her disappearance, on November 11-13 of 2017. Loofe says that Sydney came home to Neligh that weekend to be with family and go to a craft fair.
That following Monday, Loofe says her and her husband, George, came to Lincoln and stayed at Sydney's apartment to buy her groceries, clean her apartment and accompany her on an appointment to get new medication for her ongoing issues with depression and anxiety.
In the days following, Loofe saw on Sydney's Snapchat that she had a date, but after reaching out, she never heard back.
After realizing she didn't go to work the following day, Susie grew concerned.
"She's not the type of person that would have just missed work and not have, I feel like she would have told somebody if she was going to miss work," Susie said.
Susie goes on to explain that she then requested Lincoln Police do a welfare check at Sydney's apartment, where they found things that she described as out of the ordinary for Sydney, such as leaving her cat without food and water.
"She carried her makeup bag with her everywhere and that's another thing that concerned me because her glasses were in there, she wore contacts so if she was going to be gone for an extended period of time she would've taken her glasses with her but they were inside her bag," Loofe says after an evidence photo of Sydney's makeup bag shows it sitting on her bed.
The jury also heard testimony from Leah Shaw, Sydney's former supervisor from Menard's who said she wasn't likely to miss work without calling ahead or giving reason.
Shaw was followed by members of the Lincoln Police , Sgt. Tyler Cooper and Capt. Jake Dilsaver, who performed the wellness checks and initial responses to Sydney's disappearance.
In more emotional moments, however, the jury hears from a longtime friend of Sydney, Brittany Flinn. Flinn tearfully explained the last time she saw Sydney, the weekend she was in Neligh. They spent time together at the craft fair with Flinn's daughter, before all going to dinner together.
Flinn said that Sydney was an overall happy person, but knew about her struggles with depression and anxiety, as well as her usage of marijuana, which Flinn said Sydney was trying to quit using.
Flinn was also asked by the state and defense about Sydney's presence on dating apps like Tinder, and about her sexual orientation. The defense then asking if Tinder is used as a 'hook-up app' for those looking for sex.
"Is Tinder that sort of a website?" defense attorney Jeff Pickins asked Flinn, to which she responded, "I'd say probably more yes than no."
Flinn then went on to say that Sydney used the app to meet people as friends and look for a possible relationships.
Another friend jurors heard from today was Brooklyn McCrystal, who met Sydney when they worked together at Menard's on north 27th street in Lincoln.
McCrystal indicated that her and Sydney talked almost daily, and they enjoyed spending time together watching movies, cleaning, and running errands together. McCrystal also knew about Sydney's mental health struggles and her attempts to quit smoking marijuana.
The most important piece of McCrystal's testimony came when she talked about reaching out to Bailey Boswell on Tinder, where Sydney met her. At the time, Boswell was using a fake name on her profile, Audrey.
On November 16 when Sydney wasn't at work or answering any phone calls or messages, McCrystal created a Tinder account with the sole purpose of finding Audrey.
Photos of Boswell's fake trial are shown as evidence during McCrystal's testimony, confirming that the woman in the photos was who friends and family knew Sydney was with the previous night.
"I thought that if I could meet up with this girl and act like I'm interested it could lead me to Sydney, and I could like, get her," McCrystal said.
McCrystal was in contact with Lincoln Police while she was messaging with Boswell, and managed to get a cell phone number from Boswell, which ultimately was a number generated on an app, making it hard to track.
During McCrystal's cross examination by Jeff Pickins, he says that since McCrystal never spoke with the woman from the Tinder account over the phone, she couldn't be absolutely certain who she was speaking to.
"For all you know it could have been a 400 pound man in his parents basement?" Pickins asked.
"I mean, I didn't think about that," McCrystal responded.
After McCrystal's cross examination, LPD officer Joseph Yandrick, investigator Cameron Cleland and Saline County deputy Dillon Semrad were all called to the stand.
Most notable of the three were Cleland's phone conversations with Boswell, who at the time was still thought to be named Audrey. Boswell claimed she had dropped Sydney off at a friends house after driving around Lincoln on their first date and hadn't talked to her since.
Cleland worked in Wilber to try to identify anyone who may have known Audrey, but as of November 18, he says he couldn't cross her off of their list of persons of interest.
Semrad then testified that he worked on tracking the phone number they had for Audrey at the time, which came from an app called Pinger. Ultimately, the IP addresses were located and were ran through Verizon wireless. Eventually, the address led them to a phone number associated with the Pinger app, which is later revealed to be Boswell's number.
Court adjourned around 3:30 Monday afternoon and will resume Tuesday morning at 8:30 with a new set of witnesses.