Tired of cooking meals in quarantine? Want your local restaurants to survive coronavirus?
A local catering company may have found the right method to keeping all local food businesses alive during the coronavirus pandemic.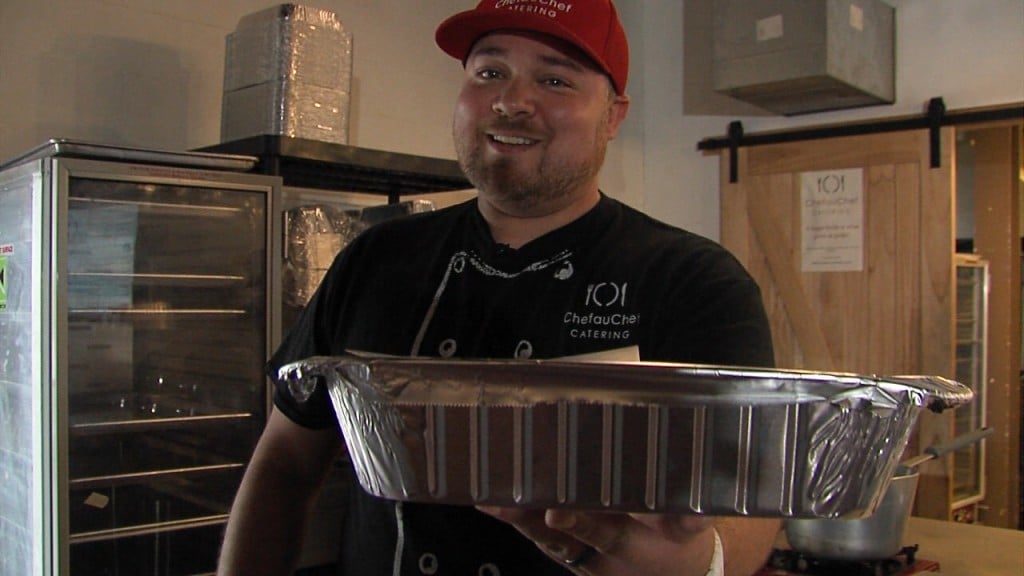 It's a way to bridge the gap between large caterings and a home cooked meal.
//NAT// "Wham bam, meal in a pan, dinner's ready!" exclaimed Aaron Young, creator of Chef Au Chef catering.
Aaron started out catering for fraternities in 2012, and built Chef Au Chef out of that. He came up with the "wham bam" idea in 2018 to help provide a home cooked meal without all of the hassle of the preparation work and clean up that comes along with cooking at home.
Before the pandemic, this portion of his business was only 20% of the total sales, and now, it has grown to 95% of the business.
"So this concept, 'Wham Bam, Meal In A Pan' right now during the pandemic is a perfect opportunity for people to not only support local businesses, but also to relieve the stress of having to cook at home," said Young.
He says just last week the business saw a 30% increase in meals being sold, and possibly, locals staying at home are just missing their favorite restaurants. They're used to dishing out around 350 pans a week, but just last week they sold 565 pans.
"I encourage other businesses that are closed, maybe pick your top top 5 best sellers and use this model, do a family of 4, do a protein, starch, veggie, or 2 starches, or 2 veggies, make it so that you can still operate, you can still give your staff hours, you can still have some type of revenue coming in," said Young.
He says, as residents of the capitol city, we can all work together. "We do not want to see any businesses go out because of this," said Young.
For every pan sold, one dollar goes to the Lincoln Food Bank to help others in need. They believe the longer we go into the pandemic, more people will need food security.
And, as a final reminder, "Just continue to wash those hands, do 30 seconds, front, back, in between, and please, the proper form for sneezing is in your elbow, you can even throw in a little dab," said Young.
The catering service is located at "H" and 25th streets. They are open Monday through Friday. A meal for 4 is just $20, a meal for 2, $13. They are offering a pick up meal service for Easter Sunday, pick up will be available on Friday, just call ahead for any order. There is curbside pick up in the driveway just North of the entrance. Their line is 402-474-2233.
Their website is here.