Traffic backed up near westbound I-80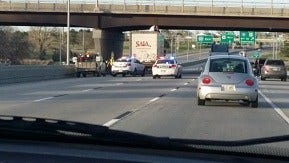 Posted By: KLKN Newsroom
8@klkntv.com
Lincoln Police are investigating an incident on I-80 in North Lincoln.
LPD says a 25-year-old man was hanging from the fence on the Superior street bridge that crosses over the interstate. Officers say a semi truck driver saw the man and stopped under the bridge to help. Police say as the semi-driver was stopped under the bridge the man fell onto the top of the trailer.
Officers say the man was taken to the hospital with non life threatening injuries and will have a mental health evaluation.