UPDATE: Group files ballot initiative to allow medical marijuana use in Nebraska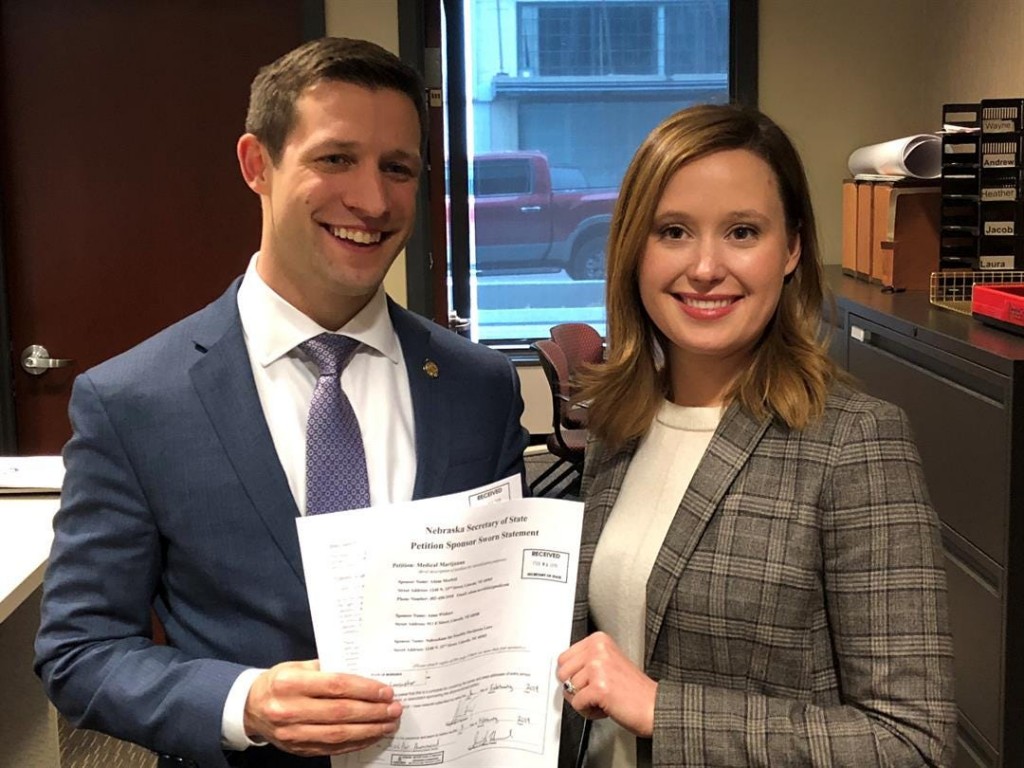 ---
A couple of state senators formed a new campaign committee aimed at changing marijuana laws in Nebraska.
Senators Anna Wishart and Adam Morfeld announced the newly formed group, Nebraskans for Sensible Marijuana Laws, Thursday morning.
The purpose of the group is to run a 2020 ballot initiative to rework existing laws via a constitutional amendment, ultimately to "prioritize the right" for Nebraskan residents to use medical marijuana.
The committee filed its initial paperwork with the Nebraska Accountability and Disclosure Commission Thursday morning, according to a news release.
"Today is the first step towards establishing a compassionate medical marijuana law for sick and suffering Nebraskans," Wishart said.
Wishart and others have sponsored medical marijuana bills in the past, which have failed.
"Elected officials have had their opportunity to take action and failed," Morfeld said. "Patients cannot wait any longer, and it's now time for Nebraska voters to decide this issue."
The new committee includes republicans, democrats, and independents, along with a marijuana reform activist.
The group will begin forming steering committees, initiative drafting, fundraising and surveying public opinion across the state, according to the release.
_______________________________________________________________________________________________________
The push for medical marijuana continued in Nebraska on Tuesday.
A committee called Nebraskans for Sensible Marijuana Laws led the charge.
The group is represented by state senators Anna Wishart and Adam Morfeld.
They officially filed a constitutional ballot initiative to get the ball rolling for the 2020 election.
The senators say they have listened to their constituents, and legalizing cannabis for medical reasons is what they want.
"We now have conclusive evidence that medical cannabis helps with severe pain, with multiple sclerosis, with Parkinson's disease, with nausea for people going through chemo therapy, cancer patients. We have evidence showing that it helps," said Wishart.
So far, 33 states and the district of Columbia have legalized some form of medical marijuana.
In order for the initiative to appear on the ballot, more than 130,000 signatures must be gathered throughout the state.
The way the language is written in the measure, only those with serious medical conditions would be able to access cannabis. They would need a written recommendation from a doctor.
Both senators say their focus is completely on medical marijuana and helping people get relief from chronic conditions.
They say legalizing for recreational purposes is another conversation entirely.
"When you know someone who has epilepsy and the potential of going from 100 seizures a day to 0… And you're standing in the way of that, nobody wants to do that," said Wishart.
Previous efforts to legalize medical cannabis have failed in the past.
Governor Pete Ricketts and attorney general Doug Peterson are both against the measure, previously saying that they believe marijuana is a "dangerous drug" and that legalization could be a slippery slope.
Others in opposition to the measure say they would also like to see FDA approval first.
Even with opposition from government leaders, senator Morfeld is confident that the people will respond in a big way in 2020.
"This issue, when it comes to support, transcends party lines, it transcends age lines, it transcends all the lines that you would normally think of when it comes to politics. That's why I am confident we will have success in 2020," said Morfeld.
The deadline to gather the required signatures is July 3rd, 2020.
Both senators say they will begin collecting them as soon as possible.