UPDATE: High speed chase leads to robbery arrest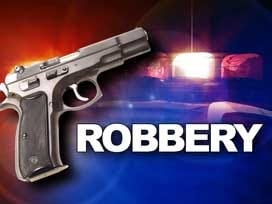 By: Jenn Schanz
jschanz@klkntv.com
The women's basketball watch party wasn't the only thing backing up traffic in downtown Lincoln Monday night.
"We turned off of 9th street onto the West O overpass, an officer went flying by us going extremely fast," says Wendy Nelson, who was driving in the area.
An armed robbery at the Rhino Stop on West O turned into a highspeed chase, when police say the suspect fled.
"While officers were still responding to the scene there we received additional information via 911 and a witness who saw a subject running with a gun and jump into a silver minivan," says Capt. Danny Reitan of the Lincoln Police Department.
From the Rhino Stop, the chase went through a neighborhood near 1st and M streets, then back towards downtown, finally ending near 9th and N streets.
Witnesses say the suspect was going as fast as 70 mph along 9th street before officers were able to kill the tires and stop the car.
Police say their suspect is 23–year–old Terrance Nevels.
They say Nevels ran toward a construction zone in the area.
That's where he was taken into custody, but not before allegedly swerving his van at an officer.
Those driving on the road at the time say they were fearful for their lives.
"There was a man and lady standing on the corner screaming at me to get out of the road yelling 'pull over, you're going to get hit, you're going to get killed!' So I pulled over up onto the grass and the lady came up to the window and said 'you're in the middle of a high speed chase."
After a string of other robberies in Lincoln recently, police are hoping this arrest may lead to answers.
"We're not sure if he's involved in those robberies or not, that's one of the things were hoping to find out if he gives us an interview," says Capt. Reitan.
Nevels is currently at the Lancaster County Jail. He was arrested for Robbery, Fleeing To Avoid Arrest and Attempted Assault On An Officer.