WATCH: Officer who lead angry mob away from Senate chambers escorts Kamala Harris to inauguration
Watch the video closer and you'll see how much he his quick-thinking paid off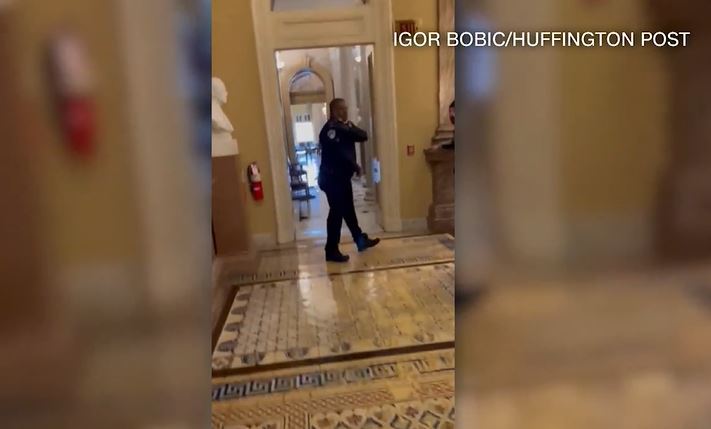 WASHINGTON (KLKN) – Two weeks ago today, Capitol Police Office Eugene Goodman singlehandedly faced a mob of rioters inside the Capitol during the insurrection. Today, he escorted the soon-to-be Vice President to the inauguration ceremony.
Eugene Goodman, a Capitol police officer who fought off a mob of rioters two weeks ago, escorts VP-elect Kamala Harris to the inauguration ceremony.https://t.co/UAlbBuSLTS #InaugurationDay pic.twitter.com/6QEWrcpPEB

— Good Morning America (@GMA) January 20, 2021
Resounding applause for the entrance of Eugene Goodman, the Capitol Police officer who led rioters away from the Senate chamber during the Capitol assault two weeks ago. He is escorting Vice Pres.-elect Kamala Harris at the inaugural ceremony. https://t.co/uHC59FCV2w pic.twitter.com/WHiF1wc0cN

— ABC News (@ABC) January 20, 2021
————————————-
There were many terrifying moments to witness on January 6 at the United States Capitol, but one moment shows bravery beyond what you initially see. It's when Eugene Goodman not only did all he could to slow down an angry mob of people, he lured them away from a delicate place.
The video that has gone viral from the Huffington Post shows United States Capital Police Officer Eugene Goodman singlehandedly having to face the crowd.
They slowly walk up the stairs and you'll notice at the top of the stairs he looks down a hallway. That's the entrance to the Senate chambers that – at the time – was unguarded and filled with lawmakers seeking shelter from the chaos. He slowly leads them the opposite way as you can see in the video, even pushing one of the rioters, seemingly baiting him to follow away from the Senate chambers.
"Various media outlets witnessed as Goodman valiantly put himself in harm's way, luring a violent mob away from an unguarded entrance to the Senate chambers, protecting Senators, staff, and reporters inside," was written in a news release issued announcing a bill to award Goodman the Congressional Gold Medal.
Representatives Charlie Crist (D-FL),  Nancy Mace (R-SC), and Emanuel Cleaver (D-MO) introduced the bill.
Eugene Goodman repeatedly lured a mob away from Senate chambers preventing a violent attack on Senators and staff

Now, @RepCharlieCrist, @repcleaver, and @RepNancyMace want Congress to award him the Congressional Gold Medal

Past recipients include Neil Armstrong and Rosa Parks. pic.twitter.com/iWQeY2KdQn

— Yashar Ali 🐘 (@yashar) January 14, 2021
Goodman is an Iraq war veteran and member of the XVIII Airborne Corps.
Capitol police officer Eugene Goodman is rightfully being hailed as a hero after singlehandedly holding back rioters from entering the Senate chambers last week.

An Iraq combat vet and member of this Corps, Eugene was a hero long before last Wednesday.

We celebrate his valor. pic.twitter.com/CLWlLG3bIW

— XVIII Airborne Corps (@18airbornecorps) January 14, 2021