"Zombies" invade Lincoln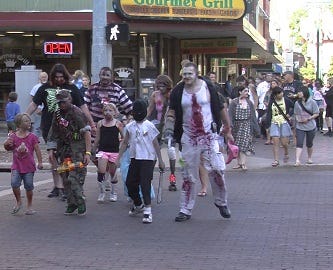 Posted By: Camila Orti
corti@klkntv.com
There were zombies on the loose in Lincoln Friday night for the 7th annual ZombieFest.
Organizers said about 1,000 people took to the streets dressed up as the walking dead.
Sarah Moore of Lincoln said she and her daughter were looking forward to seeing all the different zombie looks.
"I'm excited for the walk, I've seen some really great costumes already so I'm excited to see what everybody looks like when they're walking around tonight," Moore said.
Friday's festivities included a zombie market, games, dancing, zombie make-up, and of course the walk. Participants started at Pershing Center and looped through downtown and the University of Nebraska-Lincoln's campus.
The walking dead weren't the only ones having fun; the resistance army was also there to protect the city. Tim Foss, an organizer for the anti-zombie militia, says the event is a blast for everyone.
"We get to dress up just like the people who have fun with the zombies, only we're doing it in camo and running around with Nurf Guns and shooting people," Foss said.