A Lincoln rabbi says the Jewish community will celebrate Hanukkah 2020 virtually
The local Jewish community has a new leader and Rabbi Alex Felch says in these times, the spirit of Hanukkah is needed.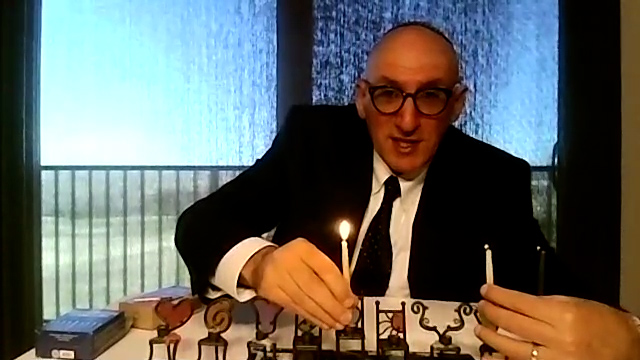 LINCOLN, Neb. (KLKN) — Today marks the first day of Hanukkah for many across the world.
Channel 8 caught up with a Lincoln rabbi who plans to celebrate virtually with his synagogue community.
The local Jewish community has a new leader and Rabbi Alex Felch tells me in these times, the spirit of Hanukkah is needed. So, we, we like the central candle. That is the server candle.
Rabbi Felch is new to Lincoln, now serving two synagogues in the capital city and he says even in the midst of a pandemic, the Jewish community in Lincoln will celebrate Hanukkah virtually.
"It's also a home-oriented celebration," said Felch. "So everybody in their homes, they would light their own candelabra, their own menorah."
Earlier this year, the South Street Temple was vandalized with hate words spray-painted on the building, Rabbi Alex says in the time of need, the Lincoln community supported the Jewish congregation.
"So the temple, its front doors, part of the front part of the building were desecrated with different kinds of graffiti, hate expressions and there was a community outcry," said Felch. "The entire community of Lincoln, highly appreciated and people came and rally around supporting the Jewish community and expressing their solidarity."
This Saturday, the synagogue will hold a community virtual Hanukkah celebration. Rabbi Alex says it will be different, but fun. You'll see cooks making Jewish sweets and fried doughs, trivia, and singing.
"Together we're going to be celebrating through some gastronomic, if I can put it like that, in traditions, which involves specific foods, food items, that we prepare for the festival," said Felch. "There will also be a community singing and we're going to be also playing with our youngsters as part of this program and it is very fun."
He adds the event is open to the public and in this pandemic, he hopes you choose to spread the light.
"So, the idea is always to increase light," said Felch. "Light means culture. Light means warmth. Fire means warmth. It's about the idea of being warm to other people as well adjust ourselves, and bring light to the world rather than darkness so hopefully, this upcoming Hanukkah will bring light to the world, enlightenment to the world."
If you would like more information on the virtual event happening this weekend, go here .