A Lincoln resident's pet is stolen off of their porch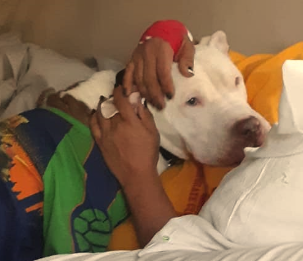 A dog was stolen right off of his owners porch in broad daylight, near 21st and A streets, and it was all caught on camera.
Thursday, Dec. 12, just after 3:00 pm, Debra Garcia and her family were inside moving furniture. They left Timmy, their year and a half old, white pitbull, tied up outside. When they went to retrieve Timmy, he was gone.
Knowing her neighbor had a Ring doorbell, Debra asked to check the video.
They saw, what appears to be, two males and one female, around high school age. They walked up to Timmy, who was on his owner's porch, and preceded to unhook his leash and walk him west down A street.
"I got upset, you know, its just hard because he's been around so much. He's been around for a year. Without him I don't think anybody would be the same," said Debra.
After reporting the crime to Lincoln Police, an officer was able to use the footage to identify and locate the suspect; a 17-year-old female who had Timmy at her home. She claimed the dog was abandoned, but video clearly shows her taking Timmy from his owner's property. She has since been referred to the County Attorney's office for charges.
But, more importantly, Timmy was finally reunited with his family.