Update: 9 dead, 27 injured in Dayton shooting; suspect's sister among victims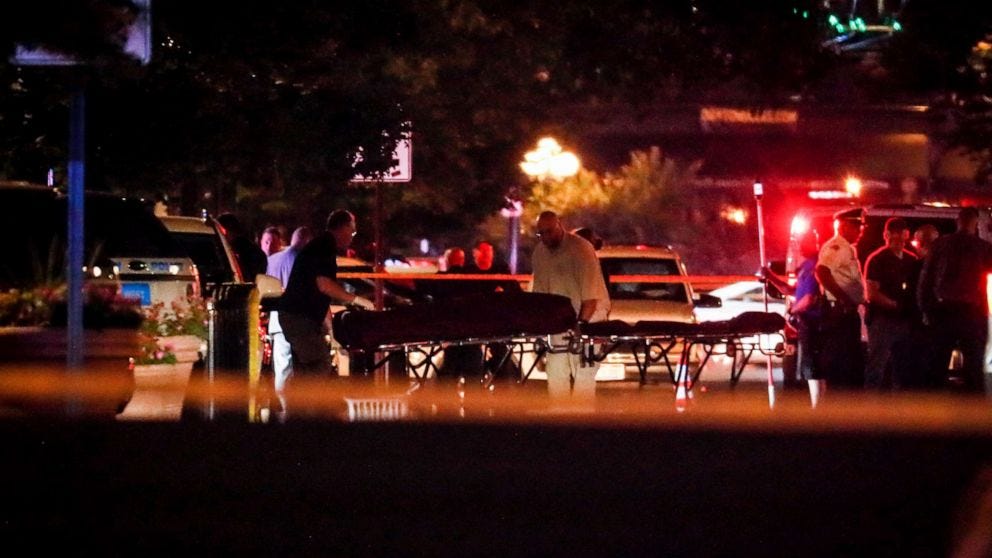 ABC News – In the second mass shooting in less than 15 hours, at least nine people were killed and 27 injured early on Sunday after a gunman in body armor and weilding an AK-47-style assault rifle opened fire in downtown Dayton, Ohio, according to police.
Police confirmed Sunday afternoon the suspected gunman's 22-year-old sister is among those who where were shot to death.
The suspected shooter was shot and killed by responding officers "in less than a minute" after opening fire in the bustling Oregon District of Dayton, Mayor Nan Whaley said Sunday morning on ABC's "This Week." Police said they were only aware of one shooter.
"What's scary about that is that if they were not there, the hundreds of lost lives we would've had in the Oregon District," Whaley said.
The suspected gunman was identified as 24-year-old Connor Stephen Betts, Lt. Col. Matt Carper, the assistant Dayton police chief, said at a news conference Sunday afternoon.
Carper also released the names of all nine victims killed, including Betts' sister, Megan Betts.
He identified the other victims slain as Lois Oglesby, 27, Saeed Saleh, 38, Derrick Fudge, 57, Logan Turner, 30, Nicholas Cumer, 25, Thomas McNichols, 25, Beatrice Warren-Curtis, 36, and Monica Brickhouse, 39.
Connor Betts lived in the Dayton suburb of Bellbrook, where FBI and Dayton police executed a search warrant on his home Sunday morning, according to Bellbrook Police Chief Doug Doherty. The chief told reporters that his agency had no previous contact with Betts.
The mass shooting in Dayton followed a mass shooting Saturday morning in El Paso, Texas, where 20 people were killed and more than two dozen injured when a gunman, also wearing body armor and armed with an assault rifle, opened fire without warning.
Read more here.