Bailey Boswell found guilty of first-degree murder
A jury has found Bailey Boswell guilty of the death of Sydney Loofe.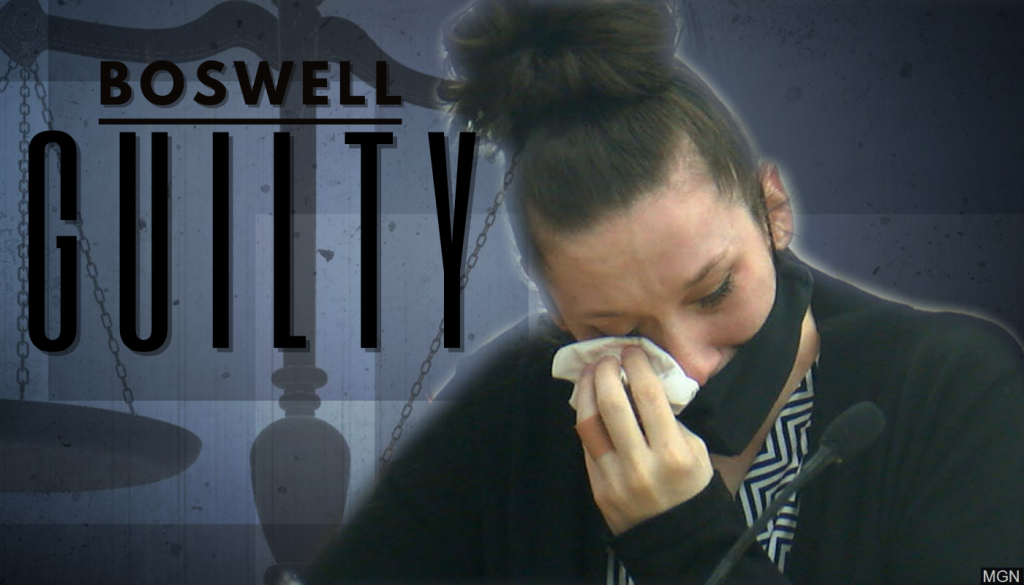 LINCOLN, Neb. (KLKN) – A jury has found Bailey Boswell guilty of the death of Sydney Loofe.
After less than four hours of deliberation, the jury returned a verdict of guilty for the charge of first-degree murder. She was also found guilty of conspiracy to commit murder and improper disposal of human remains.
The trial, which was originally slated for March, was delayed and moved from Saline County to Dawson County after Boswell's attorney, Todd Lancaster, requested a venue change, citing extensive media coverage of Loofe's murder and the trial and conviction of Boswell's co-defendant and boyfriend Aubrey Trail.
It began with an hour-long road map from prosecutor Sandra Allen of how Loofe went from getting ready for a date with Boswell to being dead.
RELATED CONTENT: Jury finds Aubrey Trail guilty of first-degree murder
Throughout her opening statement, Allen described how Boswell and Trail were tracked by Lincoln Police and Saline County Sheriff's deputies through cell phones and surveillance video, and how investigators came to find pieces of Loofe's body scattered in fields in rural Clay County.
"Then they find an upper arm, and it's when they find that upper arm that they knew they found Sydney," Allen told jurors. "Because she had a tattoo on her arm. On her tattoo were the words 'everything will be wonderful someday.'"
Allen was followed by Lancaster who said, in just under ten minutes of opening statements, the state had a "weak" case.
"Look at the state's evidence critically, and remember when you start getting emotional, when you start getting upset about this, think about why the state is giving you that evidence," he said. "It's because it's weak and they want to rile your emotions up."
The first witness called to the stand was Loofe's mother, Susie.
Susie indicated that her relationship with Sydney was a close one, saying they were in communication every day. The last time she was with Sydney was the weekend before her disappearance, on November 11-13 of 2017. Loofe says that Sydney came home to Neligh that weekend to be with family and go to a craft fair. When Sydney missed work a few days later, her mother grew concerned.
"She's not the type of person that would have just missed work," she said. "I feel like she would have told somebody if she was going to miss work."
RELATED CONTENT: Sydney Loofe's mother, friends testify at Boswell trial
Some of the most emotional testimony came from Brittany Flinn, a longtime friend of Loofe. Flinn tearfully explained the last time she saw Sydney, the weekend she was in Neligh. They spent time together at the craft fair with Flinn's daughter, before all going to dinner together.
Flinn said that Sydney was an overall happy person, but knew about her struggles with depression and anxiety, as well as her usage of marijuana, which Flinn said Sydney was trying to quit using.
Another friend jurors heard from was Brooklyn McCrystal, who met Sydney when they worked together at Menard's on north 27th street in Lincoln.
The most important piece of McCrystal's testimony came when she talked about reaching out to Bailey Boswell on Tinder, where Sydney met her. At the time, Boswell was using a fake name on her profile, Audrey.
On November 16 when Sydney wasn't at work or answering any phone calls or messages, McCrystal created a Tinder account with the sole purpose of finding Audrey.
"I thought that if I could meet up with this girl and act like I'm interested it could lead me to Sydney, and I could like, get her," McCrystal said.
McCrystal was in contact with Lincoln Police while she was messaging with Boswell, and managed to get a cell phone number from Boswell.
Lincoln Police Investigator Bob Hurley was tasked with tracking the duo through the phone. Hurley could see the cell phone's distance from the cell towers, which gave away their locations.
Using information gathered from the cellphone data, Hurley instructed  Nebraska State Patrol Lieutenant Cory Townsend to check an intersection in rural Clay County on the afternoon of December 4. After a few minutes of searching, they found part of Sydney.
"I looked down into the ditch and I could see a black plastic trash bag that was partially torn open and from my experience I  knew that what I could see in the bag and one portion laying outside the bag was human remains," Townsend said.
Further testimony detailed the work by more than 50 investigators to find Loofe's dismembered body. As the gruesome images were shown to the jury, Boswell could be seen at her table visibly emotional, wiping tears away and not looking at the screens.
After getting through the foundation of the investigation, testimony turned to the more explicit and supernatural aspects of the trial.
Ashley Hills, who testified that she also met Boswell on Tinder, described her relationship with her and Trail. Hills said Trail would often pay her rent and car payment, give her money for marijuana, food and small luxuries like getting her nails done. The three would also engage in sexual activity together, which included the use of sex toys owned by Boswell and Trail.
Hills testified that as they spent more time together, the topic of witchcraft and sorcery began. She said Boswell told her she was a witch, and her power was as a 'healer' and Trail told her he was a vampire and that he could fly.
According to Hills, the couple told her that in order to become a witch, she was required to "take someone's last breath." Hills told the jury that at the time, she believed Boswell and Trail's stories about witchcraft.
On multiple occasions, Hills said she had conversations with Boswell and Trail about killing people in order to become a witch, including a time when the group was at Walmart in Beatrice. During that trip, Trail had met with a woman there and later asked Hills if she would be interested in killing her. Hills responded yes, but they never followed through.
Hills revealed conversations she had with Boswell about wanting to torture people and how they would do it. Hills claims Boswell told her she would like to 'pour acid into someone' and burn them.
"What was her demeanor like during these conversations?" asked prosecutor Sandra Allen. "Joyful," Hills replied. "Her eyes would light up." Boswell also indicated to Hills that she was 'turned on' sexually by torture.
Hills also talks about another member of their group, Anastasia 'Ana' Golyakova, who was a 'body watcher' in the realm of witchcraft. She was told that monthly, the witches along with Boswell would go to a cornfield and 'leave their bodies' and Golyakova was tasked with watching and guarding their bodies while they were gone.
Hills revealed that Boswell and Trail were plotting to kill Golyakova for being 'annoying' and breaking some of the rules they were required to follow. The group planned a trip to Pennsylvania together, and it was understood that Hills would help Boswell and Trail kill Golyakova on that trip, but that never happened.
The stories of control, sex and torture continued with Kaitlyn Brandle, another woman who met with Boswell, who was using the alias of 'Kelsey,' on Tinder.
Brandle testified she didn't know Boswell's real name until Thanksgiving of that same year, after three weeks of a roller coaster relationship. Brandle says their conversations online turned sexual almost immediately, both of them expressing desire in having a dominant/submissive relationship together.
'Kelsey' informed Brandle she had a 'master,' and that Brandle would also be required to follow rules. After meeting with Boswell the next day, November 1, 2017 at the Ameristar Casino in Council Bluffs, she also met Boswell's 'master,' Aubrey Trail. It was then that she was informed she needed to call Boswell 'mistress' or 'mommy' and refer to Trail as 'daddy.'
As part of the rules, Brandle says Boswell required her to give Trail massages and perform oral sex on him, even though she says she wasn't interested in men. However, she says she was willing to do it in order to maintain her relationship with Boswell.
Brandle testified that if rules were broken, or if she made Trail or Boswell angry, there were punishments. She described an incredibly sexually graphic punishment that she endured after leaving her marijuana pipe in Boswell's car in which she says Trail held her down while Boswell penetrated her anally with a sex toy.
"I wanted to be in this relationship, despite being uncomfortable with Aubrey, I still wanted to have a relationship with Bailey, so I just accepted whatever punishment she wanted," Brandle said.
Golyakova, the other woman involved with the group, further detailed the sexual activity and talk of the supernatural.
Golyakova testified that the topics of witchcraft and powers came up after a few weeks of being with the couple, but she says both now and at the time she didn't believe anything they told her.
"It was pretending," she told prosecutors.
Golyakova said Trail tried to convince her he could hypnotize people, and recalled an incident in their Wilber apartment when he hypnotized 'Jenna,' who was Boswell using an alias. Golyakova claims she believed it to be an act.
As her involvement with the couple continued, she said conversations about torture and killing for a profit came up, and she was uncomfortable with it. She testified that she believed they could see her uneasy feelings about it, and talked mostly about doing it to criminals and rapists.
Golyakova said Boswell and Trail were trying to bring in another young girl into their group. Golyakova says she messaged the woman on Instagram as a warning, telling her the situation was different than what they were telling her. She said Boswell and Trail would trade phones and message a number of women.
Lancaster, Boswell's attorney, asked Golyakova if she had ever received punishment for breaking the rules, and Golyakova testified that 'Jenna' once slapped her in the face. When asked if Trail ever hit her, she said she didn't remember.
"If somebody hit you, you would remember that, correct?" Lancaster said. "I paid three psychologists to forget this, sir," Golyakova responded. "No, I don't remember."
Later in the trial, Michelle Elieff, a forensic pathologist, reaffirmed Loofe's cause of death as "homicidal violence including strangulation."
Elieff explained that many of Loofe's internal organs were missing, including her tongue, heart, esophagus, and most of her left lung. Loofe also had no blood remaining in her body, which Elieff says is common in dismemberment cases. Without blood, Elieff was forced to take lung and brain tissue to use for the toxicology report.
Toxicology showed that an anti-depressant and alcohol were found in Loofe's system, she said.
Elieff also testified about areas on Loofe's skin that indicated a straight-edged knife or tool was used to cut her skin. She said based on her experience, the marks on the bones indicated that a serrated saw was used, but not one that would have been mechanically powered. For example, a hand saw or hack saw, she said.
After examining Loofe's head, face, eyes, and the remaining portions of her neck, Elieff says there were signs of petechial hemorrhaging, which means blood vessels were suppressed or congested, causing them to burst, making her skin bluish.
"All of these findings in their totality, this is consistent with strangulation," Elieff said.
During Elieff's testimony, Boswell could once again be seen wiping away tears.
Testimony ended Tuesday with closing arguments – and without the defense calling a single witness on Boswell's behalf.
Boswell's defense team filed a motion to dismiss every charge, arguing that the state had not provided enough evidence to prove them. Saline County judge Vicky Johnson overruled the motions.
In closing, Assistant Attorney General Mike Guinan talked about Boswell and Trail's pattern of recruiting women, forcing rules upon them, introducing them to a world of witchcraft, and then talking to them about torture and killing.
Guinan walked through the timeline of events, bluntly connecting the evidence that has been presented to the jury to Boswell's intentions and fantasies.
"After months of fantasies excitement, orgasmic excitement about torture and killing, I'm suggesting to you that Miss Loofe was pounced upon, and it wasn't long after she got into that apartment." Guinan said when addressing Loofe and Boswell's date on November 15, 2017.
"I'll tell you she died on that floor in that apartment that night. Looking her killers in the eyeball, in the face. Eyeball to eyeball as she fought for her life," Guinan said to the jury.
When it comes to finding no DNA evidence of Loofe in the Wilber apartment, Guinan said it's clear the lengths Boswell and Trail went to.
"This was a dismemberment and we didn't find a drop of blood in that apartment, which will tell you of the planning and preparation taken beforehand, the care taken to dismember her during, and the efforts taken afterwards to clean up and dispose of her. Premeditation, premeditation, premeditation."
Guinan wrapped up his closing arguments by asking the jury to return guilty verdicts.
"Ladies and gentlemen we are asking you to return guilty verdicts on all three counts," he said. "We're not asking because we demand it, we're asking because the evidence demands it, the facts demand it, and because the state has proven each and every element of the counts charged as you'll see during jury instruction, therefore the law demands it. Thank you."
Lancaster began his closing arguments by addressing things that were mentioned during the state's arguments.
"They don't really know what happened when Sydney Loofe got to Wilber," he said. "They told you she died within 20 minutes and she died being choked, looked in the eyes at the person that was choking her. They don't know that."
At one point, Lancaster referred back to the state's opening arguments when they said this trial is about Boswell and not Aubrey Trail.
"Talking about this case without talking about Aubrey Trail is like talking about the Titanic without mentioning the iceberg," Lancaster said, painting a vastly different picture, and calling Boswell a victim of Trail herself, like the other women who were driven and manipulated by him for money or out of fear.
"She had been the victim of domestic abuse from her child's father. She fits that type, that mold, a person Trail was looking for to be someone he could take advantage of."
Throughout his hour long closing argument, Lancaster saying several times that the state was feeding the jury their agenda.
"The state is pushing their narrative onto the facts of the case and it doesn't fit,"he said.
Lancaster told the jury that Boswell's interest and sexual desires that were related to torture and killing was never planning for a future murder, like the state argued. He says it's a sexual role play, and 'odd turn ons' and was never part of a reality that Boswell wanted to experience.
Finally, Boswell's defense argued that all the evidence presented by the state points to Aubrey Trail committing the murder of Sydney Loofe, not Bailey Boswell. He said the chopped up extension cord that was found near Loofe's body had Trial's DNA on it, and that he could have used that as a ligature to strangle Loofe.
Comparing Boswell's size to Trail's, he asked the jury to think about who really could have been capable to strangling Loofe that night in 2017.
"You need to consider whether or not they [the state] proved she had a hand in the killing, the evidence doesn't support that. It shows Aubrey Trail, or whether it shows she somehow aided and abetted Aubrey Trail in the killing of Sydney Loofe," Lancaster said in conclusion.
During the state's rebuttal argument, Mike Guinan said the testimony and the evidence shows that Boswell was not a victim, and that she was acting an thinking on her own accord.
"They fed off one another, complimented on another, amplified one another," Guinan said. "But none of this gets out of the starting gates without Boswell. She's the beginning of this. Without her we don't have a victim."
Boswell's sentencing will be set for a later date. If sentenced to death, Boswell would become the only woman on Nebraska's death row.
Boswell's attorney had previously entered a 22-page motion detailing why he thinks the death penalty should be ruled unconstitutional, including an argument that he aggravators used to decide who faces the death penalty, "exceptional depravity" and "ordinary standards of morality and intelligence" aren't defined, can't be consistently applied, and are vague.
Trail was found guilty in July of 2019 of first-degree murder and conspiracy to commit murder. A hearing in which a three-judge panel will decide whether he is sentenced to death is set for December.
Trail has maintained that he was responsible for Loofe's death, insisting Boswell was not involved.
"Bailey was in a different room," Trail said previously.  "She had nothing to do with Sydney's death.  She was not there when it occurred."