'Be kind and be nice to everybody': 6-year-old Lincoln girl spreading message of kindness
Be kind and be nice to everybody.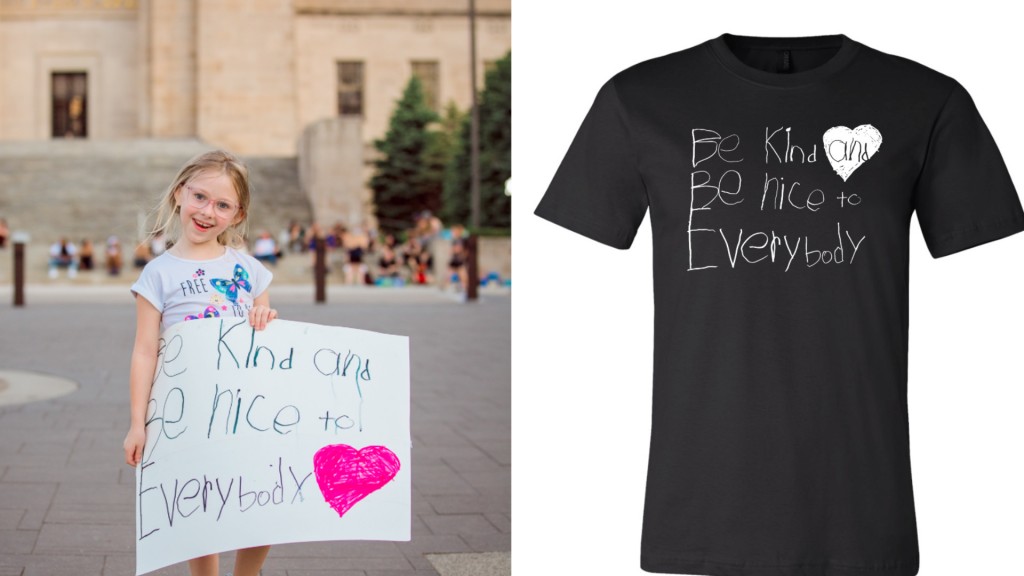 Be kind and be nice to everybody.
That's the message from six-year-old Lydia Carlson.
It all started when Lydia saw people protesting the death of George Floyd. She asked her parents: why?
When she found out, Lydia wanted to join in and be heard.
"People, everybody has to be nice to every single person in the universe," Lydia told Channel 8 Eyewitness News.
After designing the sign and holding it in front of the capitol steps, her mom had an idea to spread Lydia's message even farther – by turning the message on Lydia's sign she took to the protest into a t-shirt.
"It's cool to be able to show her that this is what you can do," Jessica Carlson said. "This is your message and your voice and you can take that and turn it into action."
The Carlson family decided to take things a step further, and say they will be donating all of the proceeds from t-shirt sales to Lincoln nonprofits. They'll also be helping the Lincoln Police Department Union, The Malone Center, Culturally Specific Group Mentoring Empowerment Initiative (GMI) and Domestic Pups.
Lydia and Jessica said no matter how much is earned, they're happy to do what they can.
If you'd like to purchase a shirt of your own, you can find the website here. All shirts must be ordered by June 18th.