Blizzard Warning in effect: Snowfall & strong winds continue to drop visibility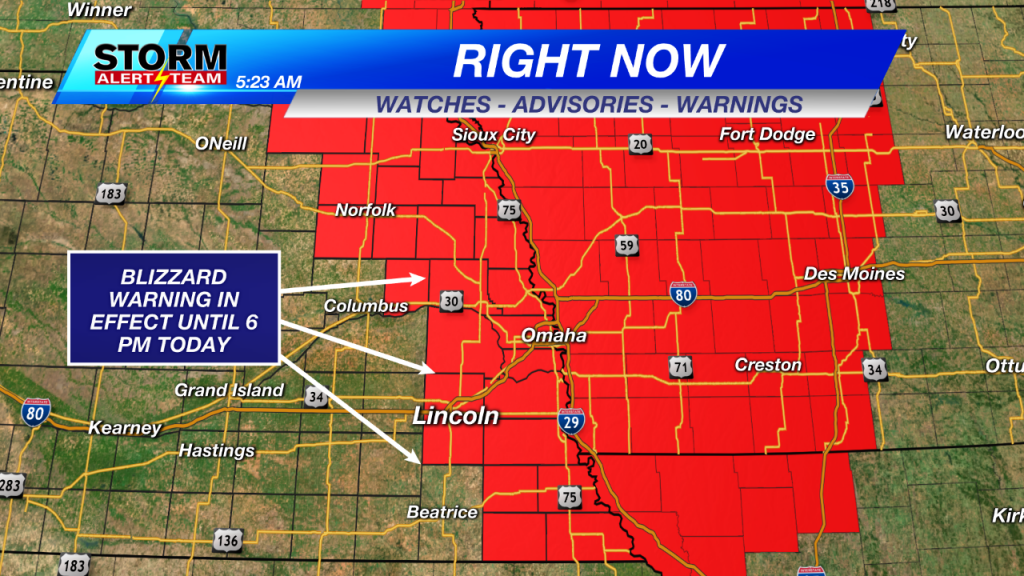 AM BLIZZARD UPDATES
11 AM WEATHER UPDATE: Snow is slowly starting to thin out across the viewing area. Here is a look at radar as of 11:18 AM.
As of 11 AM, snow totals started to come in and most of the snow from this event has already fallen. Most places fell right into our forecast range of 1-3″, with Lincoln and Omaha both receiving 1.5″. Below is a list of a few totals that have been reported so far.
Visibility continues to be low around the entire eastern half of the viewing area thanks to falling snow and also blowing snow from what already has fallen. Low visibility will likely be an issue for most of the day into the early evening hours.
10 AM WEATHER UPDATE: The snow bands are starting to pull apart a bit, which means some of you could see brief breaks from the snow for the next few hours. Here is a look at current radar as of 8 AM.
Visibility has improved a bit now that the snow is a bit lighter and the bands are thinning out. But travel is still not advised because roads are now covered and visibility still isn't the best.
Wind gusts have increased a bit around Lincoln, as we now have gusts close to 50 mph. The Tri-Cities still have the highest wind gusts though, peaking around 60 mph.
7 AM WEATHER UPDATE: Several hours of heavy snow bands have already pushed through. This has resulted in accumulation on roadways and reports of accidents. Here is an updated look at the roadways right now.
I also decided to increase our snow totals across the area by one inch. Snow drifts could be higher around the area, but it looks like upwards of three inches could fall for some.
5 AM WEATHER UPDATE: Heavy snow bands are currently pushing through the entire eastern half of Nebraska this morning. This is quickly dropping visibility thanks to the help of strong wind gusts. Here is a look at radar as of 5:20 AM. The darker shades of blue represent where some of the heaviest snow is falling.
Wind gusts right now range from 30-60 mph around southeast Nebraska. The Tri-Cities currently have the highest wind gusts right now, but wind continues to be the biggest concern there since snow isn't falling. That of course isn't the case for here in Lincoln since we are dealing with falling snow. Wind gusts around 40 mph are reducing visibility the further to the east you go.
Below you can clearly see that the lowest visibility is where the snow is falling along the entire eastern half of the state. This lines up perfectly with the Blizzard Warning that is in effect for Lancaster county and counties to the east.
Overall snow totals are on the low side with the highest totals staying off in Iowa. Here around southeast Nebraska we will see a gradient, with the highest totals to the east and the lowest to the west. Eastern Lancaster county could see up to two inches of snow, while the Nebraska and Iowa border could see higher than two inches. Here is a look at the snow total map below.
Yes, roads could get slick and slushy throughout the day as snow falls. But this event isn't about how much snow will fall. A Blizzard Warning is defined as a period of time where wind gusts are 35 mph or higher with falling snow that drops visibility down to 1/4 mile for around three hours. With that said, our main concern is visibility today. Travel is NOT advised and you should stay home if possible. Here is a look at road conditions as of 5:30 AM. A few accidents have already been reported as the roads are starting to get slick and visibility continues to drop below a mile.
The snow will start to taper off as we head into the afternoon hours. Around 3 PM more breaks will appear in between snow bands until they eventually stop. Here is a look at one models prediction of what radar might look like at 2:30 PM.
Strong wind gusts will persist well into the evening today and eventually into overnight tonight. Gusts could peak for Lincoln again around the afternoon hours, before they gradually start to calm down into the evening. Overnight wind gusts will top out in the mid-20s before falling into Saturday morning.
Make sure to check back on this page throughout the morning! More updates are coming soon…
Meteorologist Brittany Foster
@BrittFosterKLKN
bfoster@klkntv.com