Boswell, Trail's landlords testify about days surrounding Loofe's disappearance
Allen and Jennifer Koll, landlords of Boswell's apartment in November of 2017, testified Tuesday morning, mentioning a strong odor of bleach coming from her apartment.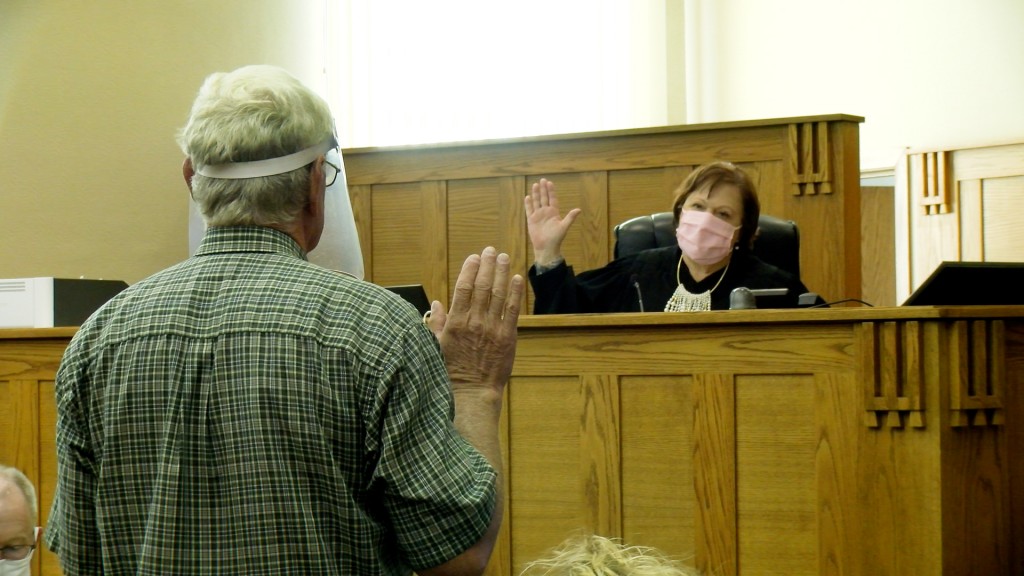 Day five of the Bailey Boswell trial began Tuesday morning, the jury hearing from Boswell's landlords. The majority of their testimony centered around the days surrounding Loofe's disappearance and a strong smell of bleach that came from Boswell's apartment in November of 2017.
The prosecution began, however, with Sergeant Tom Hindburgh with the Saline County Sheriff's office.
Hindburgh was asked about his involvement in the missing person's case regarding Sydney Loofe. On November 18, 2017, Hindburgh did a welfare check at Boswell's apartment, which she shared with Aubrey Trail located in Wilber. When he arrived, he spoke with the landlords, Allen and Jennifer Koll, about a strong smell of bleach that was coming from Boswell's apartment in the days prior.
Hindburgh found nothing completely out of the ordinary at the home, and no people inside. He returned the next day with a warrant served by the Lincoln Police and found nothing had changed in the apartment.
Next on the stand was Allen Koll, the owner of the home and basement apartment that was rented by Boswell and Trail. Koll, who also testified at Aubrey Trail's trial in June of 2019, seemed calm and prepared on the witness stand. The prosecution asked Koll about his initial meeting with Boswell and Trail in June of 2017 when they began renting from him.
"Aubrey did most of the talking and Bailey was fairly quiet," Koll noted. He says he didn't have much communication with the two unless it was about paying rent, or the 'occasional "hi" in the driveway,' as Koll referred to it.
"A few times I would offer them some extra vegetables from the garden if I would see them outside," Koll testified, as Boswell could be seen carefully listening and taking notes from her table across the room from the witness stand.
Boswell's defense later asked Allen Koll if, from his interactions, he believed Trail to be a controlling party in his relationship with Boswell, to which Koll replied no. The defense focused on the fact that Koll mentioned Trail would always pay their rent in cash, and mostly three months in advance due to traveling.
The prosecution then began asking Allen Koll about the days surrounding Loofe's disappearance, specifically November 15, when he said he received a text from his wife about the strong smell of bleach coming from Boswell's apartment.
"As soon as I opened the garage door and drove my car into the garage, I could already smell the odor of Clorox," Jennifer Koll later testified. "It was consuming the whole entire upstairs of our house, I had to open up all the doors and windows."
Allen and Jennifer both testified that the smell of Clorox bleach stayed in the home for the next two days, agitating Jennifer Koll's senses, as she has a 'highly allergic' reaction to the product, they said.
Jennifer Koll was later asked about the days before she smelled the bleach from downstairs, when she had mentioned to police during a later interview that she had seen Boswell with a woman with blonde hair. At the time, she believed it was 'the missing girl from TV,' Sydney Loofe.
Jeff Pickins, one of Boswell's attorneys, asking "Do you think you were mistaken about that?" to which Jennifer replied, "Yeah, I mean that's very possible, I saw her from a distance and I could have been incorrect."
Pickins also asked if Jennifer believed Boswell to be 'quiet and meek' compared to her older and larger significant other, Trail. Jennifer replied yes.
Both Jennifer and Allen testified that the last time either of them saw Boswell or Trail was before they smelled the bleach from the apartment on the afternoon of November 15, 2017.
Following Jennifer and Allen was their son, Dayton, who lived in the section of the basement that was not part of Boswell and Trail's apartment. Dayton, who who changed his last name to 'He' after Aubrey Trail's trial, testified that he never met Trail of Boswell while they lived in his home. Dayton explained that he occasionally could hear muffled talking as they shared a common wall, but nothing ever seemed out of the ordinary until he smelled the bleach on November 15.
The rest of the day consisted of testimony from members of law enforcement from a variety of agencies, who collectively put together a bigger picture into the early days of the investigation into Boswell and Trail. Longest on the stand was Investigator Pedram Nabegh with the Nebraska State Patrol, who took the evidence photos inside Boswell's apartment while they were serving the search warrants on November 16 and 22.
Investigator Nabegh, who seemed slightly nervous but was very precise with his descriptions, walked the jury through nearly every photo taken in the apartment, which showed a mostly normal scene. However, there were things that were unusual to investigators including a knife stuck in the door, large bottles of bleach, some of which were empty, torn store receipts and a wall with streak marks, giving the impression that it had recently been cleaned.
Boswell's defense, however, asked Nabegh if he knew when the Clorox bottles were purchased or if there was any indication as to when they were emptied. Nabegh wasn't sure.
Another big part of Tuesday's testimony came from Lincoln Police Investigator Cindy Koenig-Warnke, a crime scene investigator who also was present at Boswell's apartment searches. She described their use of Blue Star, a blood enhancement chemical, and ALS which like a flashlight with different wavelengths to help investigators find blood, bone fragments or bodily fluids.
Investigator Warnke said the Blue Star was used on the wall with streak marks, and it produced a false negative. She said false positive happen when certain chemicals, like household cleaners, are present.
Through the afternoon, jurors learn that the FBI got involved in Sydney's missing person case in the end of November. The jury also learned that November 29 is when foot searches began for Loofe around the Wilber area, but weren't fruitful as of Decemeber 1 of that year.
The last on the stand was LPD detective Matt Franken, who takes us to when Boswell and Trail were arrested in Branson, Missouri on November 30.
Franken explained that when tracking cell phones seemed to fall short of the information they needed, a tip line was created. Flyers with photos of Loofe, Boswell and Trail were shared across multiple states, leading to hundreds of leads – most of which were excused. However, two helpful tips from hotels in Iowa helped track their movements.
Ultimately, Boswell and Trail created their own fate after posting a video to Facebook saying they had nothing to do with Loofe's disappearance. Investigators were able to trace the post and find them in Missouri.
Witness testimony will continue Wednesday, inching closer to exactly how and when authorities located Sydney Loofe.