Both drivers found responsible in deadly Blue Hill crash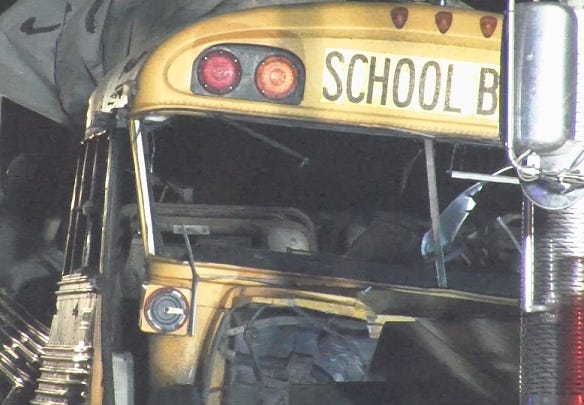 Posted By: KLKN Newsroom
8@klkntv.com
(Red Cloud, Neb.)- The crash claimed four lives and injured five others. On September 5, a Blue Hill Community School bus and semi collided at an intersection. The Nebraska State Patrol and the Webster County Sheriff's office investigation has determined that each driver appears to have shared some level of responsibility in the outcome of the crash.
"The investigation indicated that both vehicles entered the intersection at approximately the same time," Sara Bockstadter, Webster County Attorney said. "The investigation revealed that both drivers had an unobstructed view of the roadway and the opportunity to see each other."
The crash occurred just before 5:00 p.m., Wednesday, Sept. 5, when the school bus and semi hauling hay, collided at the intersection of County Road "R" and 1800 Road, south of the community of Blue Hill. As a result of the impact, both vehicles caught fire. The fire destroyed data recording equipment in both vehicles, hampering the ability to determine the speed at which either vehicle was traveling. The driver of the semi did not have a Class A Commercial Driver's License required to operate the vehicle he was driving. The driver of the bus failed to statutorily yield the right of way to the semi on her right. Both issues were identified as possible contributing factors in the crash. Drugs and alcohol were not involved in the crash.
Sara Bockstadter said, "This has been an extremely difficult time for all of us. While we continue to grieve the loss of our family members and friends, we would like to thank everyone who has reached out to our community to provide comfort and support."
The crash claimed the lives of Travis Witte, 21, Blue Hill, Marla Wentworth, 59, Red Cloud, Dustin Tesdahl, 18, Blue Hill and Caroline Thallman, 10, Blue Hill. Five other students riding the bus were injured.