BREAKING UPDATE (4): Hours-long standoff ends in Adams
Authorities say the suspect was found dead inside the home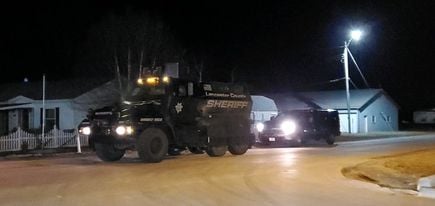 9:30 AM Update — The hours-long standoff in Adams has officially come to an end.
Nebraska State Patrol tells us this all began escalating around 9:50 last night.
Gage County deputies were originally investigating a domestic violence call where the victim said her husband hit her several times, and pointed a gun at her.
Authorities say she pushed the weapon away, but the man still fired it, hitting her hand.
Somehow the woman was able to escape with her children, who were not harmed.
A NSP SWAT team tried to make contact with the gunman several times, but never reached him.
Eventually they breached the front door with an armored vehicle and found the man dead from a self-inflicted gunshot wound.
This all lasted around 9 hours.
No officers were hurt.
SEE ALSO: UPDATE: Suspect Identified in Adams Standoff
9AM Update — There are now just three law enforcement vehicles remaining at the scene this morning.
Unlike earlier when we saw them moving throughout the property with flashlights, officers are now staying put inside their cruisers.
The house itself still has caution tape wrapped across it, and you can see a window is wide open after it appears to have gotten blown out in the overnight activity.
Channel 8 and Nathan Greve are continuing to reach out to authorities to find out the exact details of what led to all of this.
8AM Update — Freeman Public Schools has announced it's starting classes late this morning, "due to an ongoing situation in the community of Adams."
Classes are now set to begin at 10:00 AM.
However, morning pre-school has been canceled and Falcon Program will start at 8:30 AM.
Buses will be in service throughout the day.
7AM Update — Our reporter on scene says NSP units have shifted in the last hour and are now set up on the other side of the home, which has been taped off.
As of now no one has been removed from the house in handcuffs or otherwise.
Officers continue to go over the property with flashlights.
Loud bangs have been heard throughout the morning but have died down in the last hour.
ADAMS, Neb. (KLKN) – There is a heavy police presence surrounding a house in Adams, Nebraska. That's in Gage County.
The house is located at 8th and Elm Streets.
So far, the details are very limited. Channel 8's reporter arrived at the active scene around 10:30 p.m. on Monday.
The NSP Swat Team was at the scene along with several other law enforcement agencies.
This is a developing story. Please check back for details.