Cam Mack records first ever Husker triple-double in 70-56 win over Purdue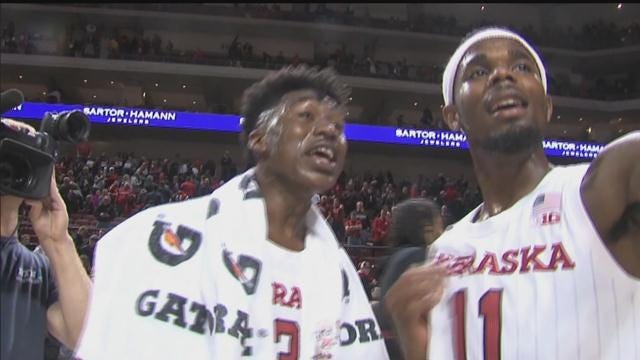 jkoller@klkntv.com
Nebraska men's basketball sophomore guard Cam Mack recorded the first triple-double in program history to help propel the Huskers to a 70-56 home win over Purdue. WATCH:
Courtesy: UNL Media Relations
Nebraska Post-Game Notes
Nebraska's 70-56 win over Purdue marked the first Big Ten coaching victory of Fred Hoiberg's career, and the Huskers' 14-point margin of victory was the second-largest of the season.
The Huskers had a season-high 22 assists in the win, the first time Nebraska had 20 assists in a game in more than a year dating back to a 21-assist performance against Missouri State on Nov. 18, 2018. Nebraska had 22 assists on its 26 made baskets.
NU had 22 assists and only 11 turnovers in the game, as Nebraska posted its best assist-to-turnover ratio of the season (plus-11). The Huskers boast a plus-21 assist-to-turnover ratio in their two Big Ten Conference games (41 assists, 20 turnovers).
Nebraska had two 12-0 runs in the first half en route to taking a 34-23 lead into the locker room. The 12-0 runs were the largest Purdue has allowed this season, as the Boilermakers had allowed only one double-digit run (11-0) in their first nine games this season.
Nebraska held Purdue to its worst shooting performance of the season. The Boilermakers shot just 30.4 percent from the field (24-of-79) and only 17.1 percent from the 3-point line (6-of-35). Purdue's 30.4 percent shooting was the lowest mark Nebraska has held an opponent to this season.
Cam Mack had 11 points, 10 rebounds and 12 assists to post the first triple-double in the history of the Nebraska men's basketball program (Note: Brennon Clemmons had a triple-double in an exhibition game against Sports Tours on Nov. 14, 2002). Mack's triple-double was the first in Big Ten play since Zavier Simpson of Michigan had one against Ohio State on Jan. 29, 2019.
Mack's 10 rebounds and 12 assists were both career highs.
With his triple-double, Mack has now posted a double-double in each of his first two career Big Ten Conference games, as Mack had 15 points and 10 assists in Friday's game at Indiana. Mack is the first Husker in at least 30 years to have back-to-back double-doubles in points and assists.
Mack has posted three points-assists double-doubles in 11 games this season. In Nebraska's previous 29 seasons, a Husker had produced a points-assists double-double a total of just five times.
Dachon Burke Jr. scored a game-high 18 points against Purdue after scoring a game-high 25 points at Indiana on Friday. Burke has scored 43 points in the first two Big Ten Conference games of his career.
Burke also tied his season high with seven rebounds against Purdue.
Thorir Thorbjarnarson scored 13 points, his fourth consecutive game in double figures and the fourth time in his career he has scored 10 or more points.
Home teams are now 12-0 in Big Ten play following Nebraska's win.
Nebraska snapped a three-game losing streak to Purdue dating back to Jan. 6, 2018.