VIDEO: Car tears through garage of east Lincoln home
Authorities are investigating after a car crashed into the garage of an east Lincoln home.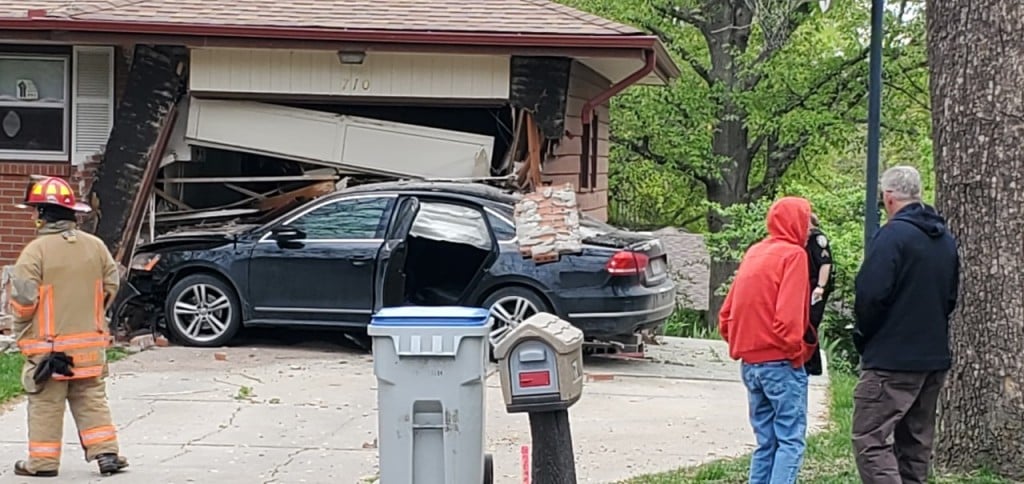 LINCOLN, Neb. (KLKN) — UPDATE:  A car barrelled through an east Lincoln home Wednesday morning.
Around 11:15, investigators with the Lincoln Police Department (LPD) were in an unmarked vehicle near 70th and 'O' Streets when they saw passengers in a Volkswagen Passat throwing objects at another vehicle.
Pulling up alongside the Passat, LPD flashed their police badges to the drive and attempted to pull them over so they could talk. Instead, the Passat made an abrupt turn and sped down S Wedgewood Dr.
A short time later, officers were called to 710 Wedgewood Dr. after a car- the Passat- crashed into a home's attached garage.
Witnesses say they saw the car speed down the street and lose control on a curve before hitting the house.
The driver and passengers abandoned the car and ran away before authorities arrived. They were eventually found near 70th and 'A' Streets.
The runaway party included a 17-year-old driver and her three passengers- two 18-year-olds and a 15-year-old. All were female.
Two of the passengers were identified as missing persons.
LPD discovered that the vehicle had been stolen on Sunday, May 2 from a neighborhood near 66th and Havelock Ave. Alcohol was found inside the car.
All passengers said they had minor pain from the accident.
The driver was cited Minor in Possession and several reckless driving charges.
---
Authorities are investigating after a car crashed into the garage of an east Lincoln home.
Lincoln Police and Lincoln Fire & Rescue responded to the scene in a neighborhood in the area of 70th and A St. around 11:20 a.m. Wednesday.
Two people who witnessed the accident told Channel 8 Eyewitness News the car almost struck them as it turned onto the street and then proceeded to crash into the garage.
The witnesses said they saw multiple people run from the car.
An LPD spokesman said it's unclear whether there is criminal activity involved.