CAUGHT ON CAMERA: Icy rescue moments after truck doing "doughnuts" in fresh snow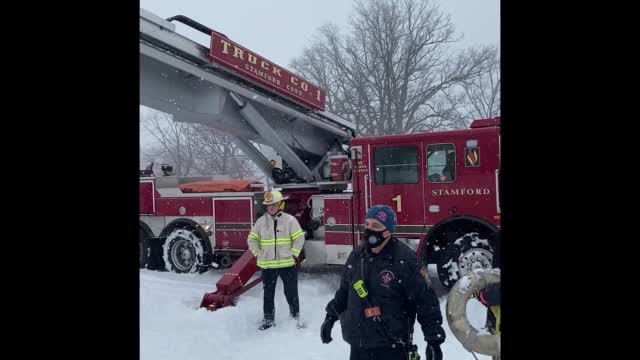 STAMFORD, Conn. (KLKN) – A joyride quickly turned into a nightmare with little time to spare, as a truck went into frigid waters with two people inside.
Stamford Police say the man and woman inside the car were doing "doughnuts" in the fresh snowfall in a parking lot at Cummings Park. New England was hit by a powerful snowstorm yesterday.
The truck then went into the harbor, slowly being sucked under the water and the tide was pulling the vehicle as well.
The Stamford Fire Department arrived at the scene to see a woman screaming in the bed of the truck for help. The man inside the truck was stuck and couldn't get out.
Firefighters quickly got the woman to safety, but they couldn't get the man out before the vehicle was submerged. Even underwater, they were able to keep physical content with the trapped man. They broke out the small rear window of the truck and pulled the man out safely.
The man and the woman both survived the ice rescue, and one of them was taken to the hospital.
The dive team then went into the water to pull the vehicle out.