Certain algae can cause death in pets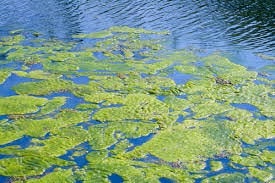 Courtesy of our media partners at KMTV:
By John Madden
LANCASTER COUNTY, Neb. (KMTV) — A certain type of algae that can kill your dog currently exists in a few lakes around Nebraska. Due to that, those with the Department of Environment and Energy are telling people to stay out of the water.
Algae blooms, blue and green types, have created health alerts for three lakes and one reservoir in the state, including Wagon Train Lake south of Lincoln.
"The most common is we like to say John Deere paint green like somebody spilled a gallon of paint," says Mike Archer of Nebraska Department of Environment and Energy.
The algae creates a toxic chemical which will make you sick if you ingest it. "It's a liver toxin so ingestion of it can lead to issues pretty severe liver damage," says Archer. Cuts on your body opens the door for other illnesses. Or if you get it on your skin, you'll know later on. "Usually within a few hours to a couple of days, you'll get a rash," says Archer.
The impacts on an adult can be serious but not as bad as for a family pet. "They'll clean their fur up ingest that toxin and unfortunately usually doesn't end very well," says Archer.
The next time you visit a lake, keep an eye out for not only the algae but signs warning you about it. "You come to a lake and you see the bright orange sign that means it has recently tested high for harmful blooms if the lake is clear and has tested well, it will be a blue sign flipped up," says Archer.
Archer says if you get algae on you to rise yourself off with fresh water. The other lakes on health alert are Kirkman's Cove in Richardson County, Rockford Lake in Gage County, and Willow Creek Reservoir in Pierce County.