Coors Light truck crashes into Taco Inn
A Coors Light truck veered off the street and struck the Taco Inn near 48th and Prescott Ave just before 11:30 a.m. Wednesday.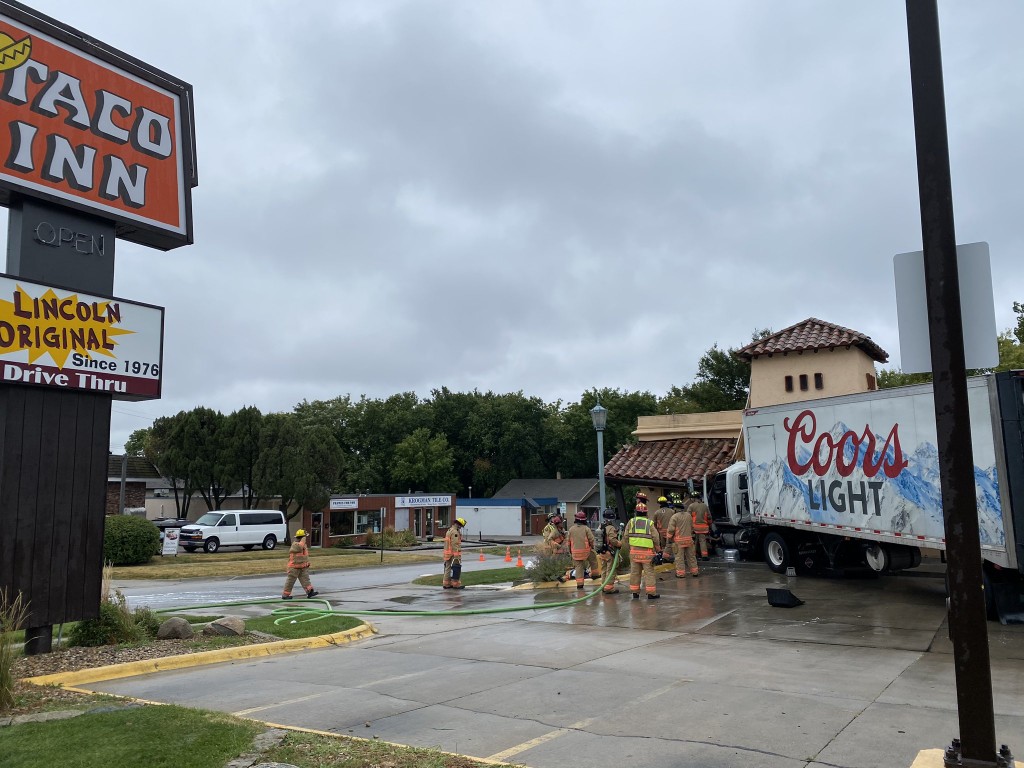 LINCOLN, Neb. (KLKN) – Authorities say a car failing to yield at a stop sign ultimately caused a beer truck to crash into a south Lincoln taco shop Wednesday.
Lincoln Fire & Rescue and Lincoln police responded to the crash at the Taco Inn near 48th and Prescott Ave. just before 11:30 a.m.
Officials on the scene told Channel 8 Eyewitness News the car struck the side of a Coors Light truck which then began weaving to maintain its balance. The truck then hit another car before turning almost 180 degrees, going up over the curb and crashing into the restaurant.
"The truck ended up partially striking the building and ended up partially inside of the building," said Lincoln Police Officer Timothy Abele.
Two people were taken to the hospital to be treated for non-life-threatening injuries, officials said.
Hazmat crews were on the scene working to contain fuel spilling from the truck. Officials said about 30 gallons of fuel leaked from the vehicle.
City engineers and members of the county health department also responded to the scene to determine the structural integrity of the restaurant. Crews remained on the scene Wednesday afternoon working on a plan to extricate the truck without the building collapsing.
Authorities did not provide a damage estimate for the building or truck. The other vehicles involved were heavily damaged.
No one was inside the lobby of the Taco Inn where the truck hit, and employees were able to exit the building through a different door.
"We're very lucky it was just before lunchtime where they weren't as busy and there was nobody inside except for the employees so we got very lucky here and we're very grateful for that," LFR Battalion Chief Lloyd  Mueller said.
The crash remains under investigation.