COVID-19 risk dial lowered to 'moderate' for first time | 10th death reported
It marks the first time the dial, which is updated each Friday, has been lowered from the "high" level.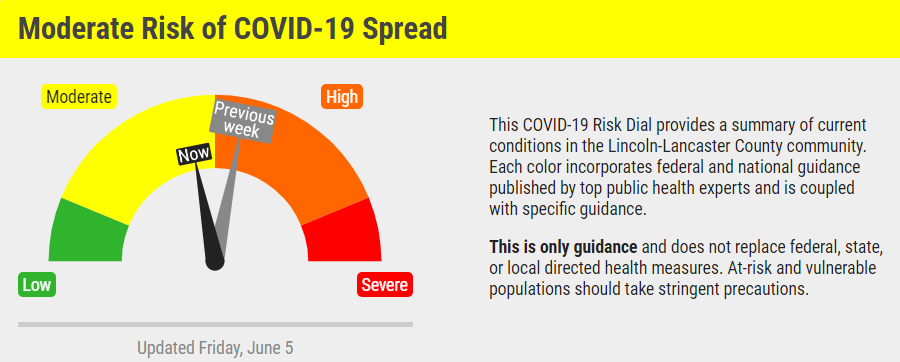 Officials have lowered the COVID-19 risk dial for Lincoln and Lancaster County from "high" to "moderate."
It marks the first time the dial, which is updated each Friday, has been lowered from the "high" level.
For each level of risk, health officials provide specific recommendations for physical distancing, face covering, hand washing, illness monitoring, and disinfection. Specific guidance is included for people at risk for complications due to COVID-19 and for businesses.
At the moderate (yellow) level, the recommendations include the following:
Consider staying at home most of the time, with caution for non-essential travel and work
Distance at least six feet from anyone outside the home
Cautious expansion of interactions with others, outdoor activities preferred
Gatherings only with modifications for COVID-19
Events only within guidance by the Health Department
Face coverings continued to be recommended to be used around other people
Continue to wash hands regularly, disinfect highly touched surfaces and monitor for illness
The Health Department continues to use local and regional data from the past few weeks to determine how high the risk of spread of COVID-19 is in our community.  Interim Health Director Patricia Lopez provided an update on the five key factors:
For the first time, there has been three consecutive weeks of decline in the average number of weekly new COVID-19 cases. The seven-day rolling average has dropped from 39 cases at the beginning of May to 15 cases at the beginning of June. On Friday, health officials reported 17 new cases.
The overall positivity rate – the percentage of all tests that are positive – has also decreased each of the last three weeks – from 9.2 percent on May 15 to 7.4 percent today. As a comparison, the state and national rates are at 13.1 percent.
Local testing capacity continues to be good. Nearly 12,000 tests were completed in the month of May.  It is strongly encouraged that people with COVID-19 symptoms sign up to get tested. To get started, contact your doctor or fill out a risk assessment at CHIHealth.com. or BryanHealth.com. or TestNebraska.com.
Overall, our local hospital capacity remains strong. The number of COVID-19 patients in our Lincoln hospitals has leveled off over the past two weeks.  Today, our local hospitals report 36 COVID-19 patients.  That includes 18 from Lancaster County and 18 from other communities. Eight patients are on ventilators – that includes four from Lancaster County and four from other communities.
The Health Department's capacity to do contact tracing continues to exceed the current demand.
Health officials also announced the tenth COVID-19 death in Lincoln and Lancaster County. The individual was a man in his 90s who had been hospitalized, officials said.