DAY 6: Witnesses detail Boswell's run from police and arrest
Wednesday morning began with hotel clerks in Iowa, and members of the FBI who were tracking the couple as the fled authorities until their arrest.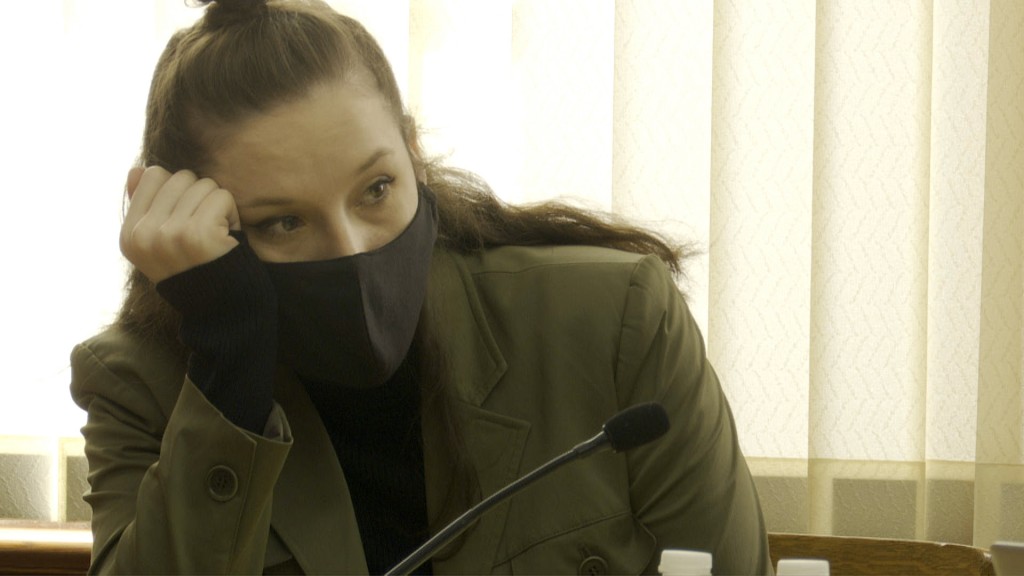 Day six of the Bailey Boswell trial began Wednesday morning with the prosecution calling several witnesses who provided helpful tips to law enforcement after they created a tip line and flyers of Boswell, Trail and Loofe's photos.
First to the stand was Hunter Birdsall, who was a hotel clerk at a Days Inn in Spencer, Iowa. The prosecution asked Birdsall about the week of Thanksgiving 2017, when Boswell and Trail stayed at her hotel.
Birdsall testified that after the couple left, she saw reports of the two being people of interest in a missing person case, and she called authorities. But, it wasn't until two days after the couple checked out on November 26.
The prosecution then called Jennie Bloom, a hotel clerk in Ames, Iowa who also saw the postings about Boswell and Trail being people of interest and recognized them after she checked them in.
Bloom contacted police while they were staying there, but unfortunately authorities just missed the couple.
FBI Special Agent Jackie Haan, also a member of the evidence response team from Des Moines, searched that hotel room in Ames.
"It looked like somebody up and left and never came back for their belongings," Haan told the jury.
It was Boswell and Trail themselves, however, that led police to their location, after they posted a video on Facebook claiming they had nothing to do with Loofe's disappearance.
Two of the videos posted to Facebook that day, November 29, were shown to the jury. In one, Boswell says "I had nothing to do with this and I hope Sydney's found soon, she's a sweet, amazing girl."
Boswell also claimed in the video that she used fake names on Tinder, saying it was because she had warrants.
In the courtroom, Boswell could be seen shielding her face from the jury as the video played.
Special Agent Mike Maseth, a lead FBI Investigator from the Omaha field office took the stand to explain then how they traced the Facebook video to the couple.
Maseth contacted Facebook for the video's IP address, which was found to be linked to a Verizon Wireless network. Investigators were were ultimately able to connect the IP address with additional information from Verizon to a cell phone number. After reviewing the cell phone's data, Maseth found that it connected with a cell tower in Branson, Missouri. He also was able to reach the phone's call history, which had one call made to a hotel in Branson.
Maseth contacted local authorities to see if Boswell and Trail's car was in the parking lot, and it was. Local officials and Kansas City field office FBI agents were then able to take couple into custody.
FBI Special Agent Dana Kreeger talked about searching the couple's hotel room in Branson, after their arrest.
During the search of their Branson hotel room, investigators found clothes, personal items, a knife, Boswell's iPhone and  multiple ZTE cell phones with receipts showing they had been purchased just days before.
Kreeger and Special Agent Scott Bakken found backpacks and fanny packs in the hotel room and Boswell's car that contained granola bars, new clothing, water bottles and walkie-talkies.
Investigators also found Boswell's wallet, which had her driver's license, SSN card and hand written documents, including a list of women's names.
After obtaining the cell phones from the hotel room, investigators were then able to access the Tinder conversations between 'Audrey' and Sydney, which confirmed 'Audrey' as Boswell.
The conversation between the two girls appeared to be a normal, flirtacious one. One that any ordinary person may have had with someone they were involved with romantically.
After authorities had the cell phones in their custody, they could then access more of their data information, including what's called RTT Data, or 'return to tower' data. This information shows the area where a cell phone is based off of the cell phone tower it interacts with.
Lincoln Police Investigator Bob Hurley explained his extensive background and knowledge or cell phone data information to the jury before detailing how it was used in this case. A detailed thread from Hurley's testimony is included below.
Hurley was able to track Boswell and Trail's movements in the early morning hours of November 16, the day after Sydney Loofe was reported missing. Hurley could see the cell phone's distance from the cell towers, which gave away their locations.
From there, based on the timing of the cell phone's initial connections to the cell tower as well as when that connection ended, Hurley could mathematically figure out how quickly the phones were traveling, including if they slowed down or stopped at any point.
"They might have 30 second transactions but only go 30 feet, so I either believed they were going really slow or stopped, went, stopped again, went. I couldn't make that determination I just knew it was a point we needed to check out," Hurley said.
Hurley knew that in the spots they appeared to  slow down, investigators should search that area.
Nebraska State Patrol Lieutenant Cory Townsend did just that. He told the jury that Hurley instructed him to check an intersection in rural Clay County on the afternoon of December 4, and after a few minutes of searching, they found part of Sydney.
"I looked down into the ditch and I could see a black plastic trash bag that was partially torn open and from my experience I  knew that what I could see in the bag and one portion laying outside the bag was human remains," Townsend said.
Townsend detailed his search that night, but they didn't find anything else until the next morning.
Further details and gruesome photos from the search and discovery are expected to be presented to the jury tomorrow. The media has been requested not to show these photos.