Exhibitors, attendees react to Husker Harvest Days improvements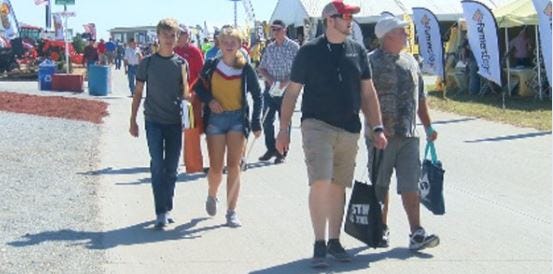 Posted By: Channel 8 Eyewitness News
8@klkntv.com
WOOD RIVER, Neb. — Husker Harvest Days is in full swing and many attendees and exhibitors have noticed the upgraded site.
One of the first things Husker Harvest Days attendees have said they've noticed are the paved streets.
One man has been attending Husker Harvest Days for over 25 years but he says this year it's a little different.
"Nice, brand new roads of concrete and a lot of clean sand and stuff around. Everything is so perfect. It is probably the cleanest, most perfect place for the show," said attendee Robert Bish.
Another long time attendee saying the new improvements have made a huge difference making it more enjoyable with less dust flying around.
"It's all concrete. No crushed rock on the walkways and stuff. The displays just keep getting bigger and better," said another attendee Alan Hutton.
Lemken USA is one company who has been coming to the show for over six years and says the improvements this year made it a lot easier to set up.
"Last week was really challenging because it was so wet and really muddy conditions. We came in on a Tuesday or Wednesday and started setting up. With the addition of all the concrete in the streets and the drainage, it seems like it is a lot more organized and easier to get in and out this year," said the area sales manager for Lemken USA.
With Husker Harvest Days celebrating its 41st year, they knew it was important to make the infrastructure changes.
A $7.5 million dollar renovation with concrete roads, a new security fence and lighting, new internet distribution and a storm surge drain.
"The comment you get is that in the Husker Harvest Days of old during the winds we've had at this year's show it would be really, really dusty. It's really, really pleasant and is a nice, smooth surface to walk on. It's really easy to traverse the show," said Matt Jungmann, the National Events Director for Farm Progress.
If you haven't seen the new updates, the last day of Husker Harvest Days is on Thursday.
Courtesy: NTV