First Democrat Sen. Carol Blood announces run for governor
"I would be honored to be your next Nebraska governor, and that today I am launching my campaign," said Senator Blood.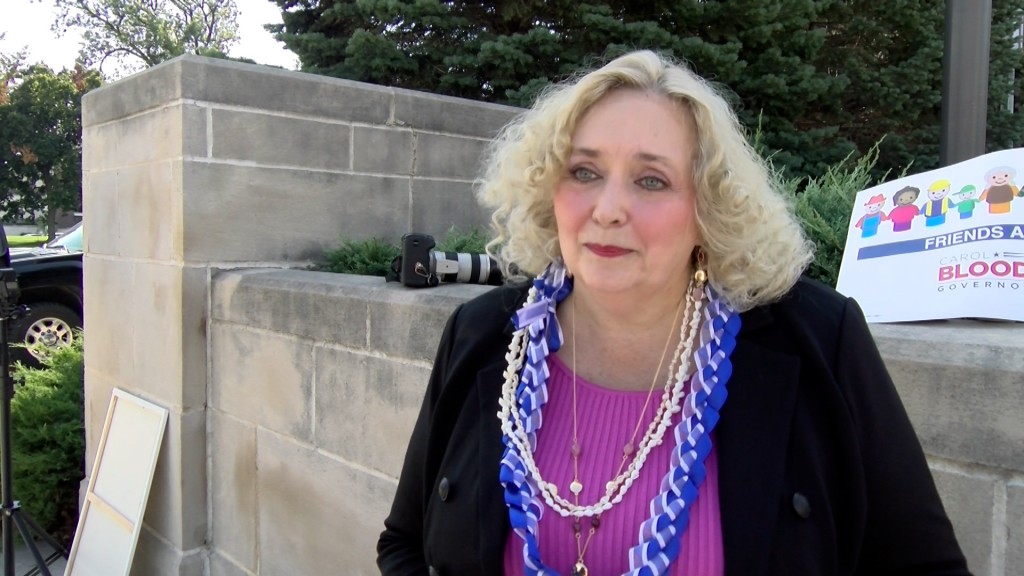 LINCOLN, Neb, (KLKN) — "I would be honored to be your next Nebraska governor, and that today I am launching my campaign," said Senator Blood.
Senator Carol Blood of Bellevue is the first Democrat to join the 2022 Nebraska governor race, announcing her run on the steps of the capital on Monday.
Supporters chanted "Time for new blood" as the Senator claimed there was too much division in the unicameral. She told Channel 8 that Nebraskans are ready for true representation.
"When we come together and work together Nebraskans get so much more done and a lot of Nebraskans are sick and tired of how divided we've become not only as a country but as a state as well," said Blood. "Quite frankly when we have elective officials contributing to that narrative it's really quite disappointing for those who were raised here in Nebraska."
She says what caused her to run is seeing an elected person's conflicting message.
"The final straw was when a peer of mine did a press release and said that he was going to fight against the 'liberal woke'," said Blood. "And knowing that he confused two different terms in one sentence and that it was clear that everybody was playing in the same playbook."
Blood said there are four pillars to her campaign:
Prosperity for all Nebraskans
Maintaining public safety and improving public health
Investing in Nebraska's infrastructure
Encouraging education
A supporter from Hastings said Blood will care for people and that western Nebraskans will push for her to take office for better representation of Nebraskans as a whole.
"She will take care of the kids in foster care. She will get all kids equal education," said Kathy Jensen. "What won't she do? The thing that Nebraskans need, she will do." This is just the year we're going to do it. We out west are going to work so hard for her that it's going to happen."
Nebraskans will vote for the next governor in November of next year. There are already several Republican candidates running for governor.
They include businessmen Charles Herbster and Michael Connely. Also, there's state Sen. Brett Lindstrom and University of Nebraska regent Jim Pillen.
Former Governor Dave Heineman is still deciding whether he'll run again.